From Indiana to Alaska: mission team serves at Kodiak's Seminary and Cathedral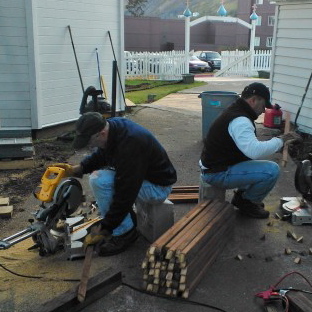 St. Herman Theological Seminary's website reports that in June, a pan-Orthodox mission team from Indiana traveled to Kodiak, Alaska, where they labored on a variety of projects both at the Seminary and at the Holy Resurrection Cathedral.
Although the team had originally planned on serving elsewhere on the island, "when those plans had to change they quickly adapted and graciously volunteered to take care of construction and maintenance issues at the Seminary and Holy Resurrection Cathedral here in Kodiak," notes the website. Within only ten days, the volunteers from the midwest completed several much-needed projects, including completely replacing two staircases at the single student residence, long overdue maintenance at the Seminary's chapel, and the installation of a new door and ramp at the Cathedral.
"We gratefully thank our brethren of this mission team for their supporting our ministry to the Church in Alaska," adds the website.
For colorful descriptions of the team's experiences, visit the Alaska Mission 2012 blog, which includes a daily journal and photographs of both the volunteers' labor, and their visits to pilgrimage sites.