Holy Trinity Orthodox Church, East Meadow Organizes 2nd CROP Hunger Walk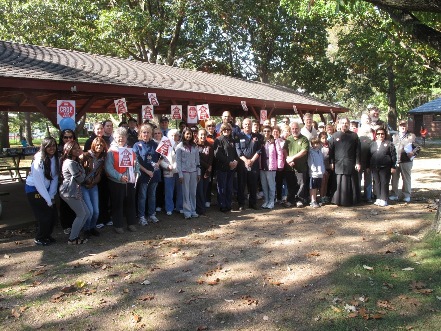 Holy Trinity Orthodox Church, East Meadow, NY organized and led its second Church World Service (CWS) sponsored CROP Hunger Walk to benefit the needy and help eradicate hunger locally and around the world. The Walk was held in nearby Eisenhower Park, offering a 1 mile and a 3 mile course.
Approximately 80 participants came out on the beautifully sunny autumn day. In addition to Holy Trinity parishioners, parishioners from St. Paul's Greek Orthodox Cathedral, Hempstead, the Greek Orthodox Church of the Resurrection, Brookville, St. Gregory of Nyssa Carpatho-Russian Church and youth members of the Malankara Indian Orthodox Church student movement joined in.
The Rev. Tom Goodhue, director of the Long Island Council of Churches was present and thanked everyone for the 25% of the gathered donations that will remain locally, this year helping to support and buy food for its Food Pantry in Freeport, NY. "The pantry would feed even more people, if we had more food," commented the Rev. Goodhue.
Also present and walking with us were the Chairman of the CWS Board, Bishop Johncy Itty of the Episcopal Church, and the 1st Vice Chairman, John Paterakis of the Greek Orthodox Church, who grew up on Long Island. (Fr. Leonid Kishkovsky and Arlene Kallaur represent the OCA on the CWS Board.)
At the end of the Walk, refreshments were served and the group, Karaoke Kare, entertained with songs, with some of the walkers stepping up to the microphone.
"Gratefully, thanks to the recruiters and donors, we exceeded this year's monetary goal of $7,000," reported Arlene Kallaur, Holy Trinity parishioner and coordinator of the event. "As this money goes out to help feed the hungry locally and in far places, we can truly say that we will have made a difference in many lives, 'one step at a time.' We hope even more walkers will join us and 'step out' next year. It's a wonderful community project. It is work, but also a lot of fun!"
A photo gallery can be viewed here.