IOCC Responds To Humanitarian Needs Of Gaza Families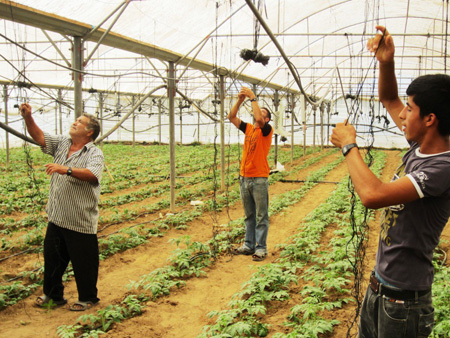 The rising hostilities between Israel and Gaza has claimed at least 100 lives – more than half of them Palestinian civilians – and left 600 more injured in Gaza. While the world watches to see whether the tension continues to escalate, International Orthodox Christian Charities (IOCC) is on the ground in Gaza, assessing the most urgent humanitarian needs of Palestinian families caught in the conflict.
Country Director, Sam Dunlap, oversees IOCC field offices in both Jerusalem and in the Gaza Strip. Dunlap says access to food, medical care for the injured, and trauma counseling for children that have been exposed to the violence are quickly emerging as the most pressing problems facing families in Gaza. "Our staff in Gaza is canvassing the affected areas, assessing the immediate needs of those most severely impacted by the conflict – families with small children, female-headed households, and the elderly."
IOCC has a history of humanitarian service in Gaza, providing agricultural training and support to impoverished families in the region since 1997, and delivering emergency humanitarian relief to Palestinians following a military conflict in 2009. "We pray that the looming humanitarian crisis can be avoided without further loss of life," said Dunlap. "Regardless of what transpires, IOCC staff stands ready to respond to the immediate and long-term humanitarian needs of affected families in Gaza."
ABOUT INTERNATIONAL ORTHODOX CHRISTIAN CHARITIES
IOCC is the official humanitarian aid agency of the Assembly of Canonical Orthodox Bishops in North and Central America. Since its inception in 1992, IOCC has delivered more than $400 million in relief and development programs to families and communities in 50 countries. IOCC is a member of the ACT Alliance, a global coalition of more than 130 churches and agencies engaged in development, humanitarian assistance and advocacy. To learn more about how you can help vulnerable families around the world, please visit www.iocc.org.
Media contact: Rada K. Tierney, IOCC Media Relations, 443-823-3489, .(JavaScript must be enabled to view this email address)