NEWS ELSEWHERE: Remembering Archbishop Job, Pittsburgh retreat, Detroit welcomes St. Nicholas, parish happenings
DIOCESE OF THE MIDWEST: Marking the second anniversary of the repose of Archbishop Job
Sunday, December 18, 2011, marks the second anniversary of the repose of His Grace, Bishop Job of Chicago and the Midwest.

His Grace, Bishop Matthias, requests that Memorials be celebrated the weekend of December 17-18 in all parishes of the Diocese of the Midwest.

Services will also be celebrated at Saint John the Baptist Church, Black Lick, PA, where Archbishop Job was laid to rest. Recently, a beautiful cross monument was erected on the grave site, which is located outside directly behind the church's altar.

A video recounting the experiences of the 150-plus individuals who participated in a mission trip in Archbishop Job's memory to Project Mexico's Saint Innocent Orphanage July 12-18, 2011 is now available for viewing and downloading at http://vimeo.com/30930039. Led by Bishop Matthias, trip participants built several homes during their mission. Further information may be found at www.midwestdiocese.org/news_111109_2.html.

May Archbishop Job's memory be eternal!

ARCHDIOCESE OF PITTSBURGH AND WESTERN PA: Altar servers' retreat a success!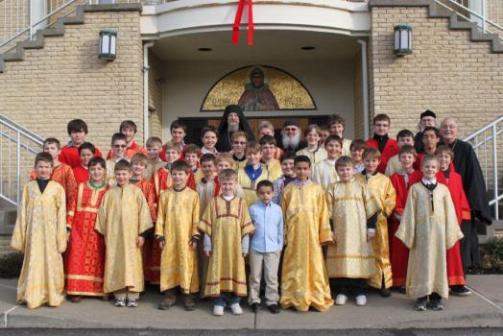 The Archdiocese of Pittsburgh and Western PA, in partnership with the Pittsburgh District of the Fellowship of Orthodox Christians in America, recently held a wonderfully successful Altar Servers Retreat at Saint Alexander Nevsky Cathedral, Allison Park. PA. Registered for this first-of-its-kind retreat were 45 forty-five servers representing at least 12 diocesan parishes.

The event opened and closed with prayer, led by Cathedral Dean, Archpriest Michael Senyo. The main speaker for the retreat was Priest Demetrios Carellas, Chaplain of the Nativity of the Theotokos Monastery, Saxonburg, PA, who reminded the retreat participants of their "special calling" in serving in the Lord's altar.

A highlight was the "Ask the Bishop" portion of the program, during which participants were able to ask His Grace, Bishop Melchisedek questions. The retreat also included a session led by diocesan clergy, including Archpriests Joseph Wargo and Paul Ziatyk, Chancellor, concerning basic serving "decorum."

The retreat was a joint effort of the Archdiocese's Youth Committee and the Pittsburgh District FOCA. Co-chairs of the very active Youth Committee are Patty Lear and Helene Emerick, with Archpriest William Evansky, Archdiocesan Secretary, serving as Spiritual Advisor.

EAST MEADOW, NY: Church School provides gifts to hospitalized children
For the 54th consecutive year, the youth and teens of Holy Trinity Church, East Meadow, NY, recently presented the parish's annual Christmas program. Incorporating scripture readings, liturgical hymns, traditional carols, and a stage filled with costumed children, the program proclaims the message of Jesus Christ's Nativity.

As part of the program, parishioners in attendance were encouraged to bring wrapped gifts which were delivered by the parish's teen group to the Pediatric Ward at Nassau University Medical Center (NUMC) following the program. "It is an opportunity for our children to recognize the importance of sharing the joy of Christmas with kids who are sick and need to spend the Christmas season in the hospital," said Valerie Eagen, program coordinator at Holy Trinity.

Heather Spanselner, NUMC Activities Coordinator noted Holy Trinity's generosity is valuable for its patients, "We typically have 100 children who go through the various pediatric units during the month of December," Ms. Spanselner said, adding, "and Holy Trinity's gifts are appreciated."

Holy Trinity Church has a long-standing tradition of presenting Christmas programs and pageants. Many of the children in this year's program are the sons and daughters of previous pageant participants. The program featured children presenting the Nativity account using scripture quotes and narratives, while others assembled a poster-sized image of the Christmas icon, featuring the Virgin Mary, the infant Christ child and other people mentioned in the biblical account. Children in costumes then created a 'living Nativity icon' on stage. With hymns and traditional carols sung between scenes, those in attendance were invited to sing along.

"The atmosphere of genuine Christian love and dedication to Jesus Christ through our Orthodox Faith was very apparent today," said Father Martin Kraus, rector of Holy Trinity, "The children shared that love with those in the audience, and afterwards at the Pediatrics Ward."

The NUMC pediatric unit consists of twenty beds in the general ward, six beds in the PICU. In addition, the hospital's pediatric psychiatric wing and burn unit are available as needed. "With children at various stages of hospitalization, the gifts go a long way to brighten their spirits," said Mrs. Eagen.

DETROIT: Orthodox Council of Churches hosts Pan-Orthodox St. Nicholas party

The Council of Orthodox Christian Churches of Metropolitan Detroit [COCC] is sponsoring "The Story of Saint Nicholas," a Nativity-season children's party, on Saturday, December 17, 2011 from 2:00 until 4:00 p.m. at Saint Thomas Church, 29150 W. 10 Mile Road, Farmington Hills, MI.

"The party will feature the story of Saint Nicholas as told by Saint Nicholas himself," said Richard Shebib, past COCC president and chairman of the event. "We will have young adults explaining nine traditions we celebrate at Christmas. Children will meet St Nicholas and receive a gift while their parents take their pictures. There will also be a carol sing-a-long and refreshments."

Prior to the program, from noon until 2:00 p.m., children will be greeted by live reindeer Donner and Blitzen as they enter the church hall and can have their photographs taken with them, Shebib said.

The party is free of charge and open to Orthodox and non-Orthodox children of all ages and their parents. Refreshments will be served. A service of Great Vespers will follow the party at 4:00 p.m.

The COCC is a 54-year-old clergy and lay association that represents various canonical Orthodox churches in metro Detroit. Its mission is to promote Orthodox Christianity throughout the area through worship, fellowship, and charitable, educational and outreach programs. For further information, visit www.coccdetroit.org.

MCALLEN, TX: Seventh annual winter service retreat for older teens, young adults
The annual winter service retreat for older teens and young adults, sponsored by Saint George Church, McAllen, TX, will be held December 27, 2011 through January 1, 2012.

This year's retreat master is Father Melitios Webber, Abbot of Saint John of Shanghai Monastery, Manton, CA. This retreat is open to Orthodox Christian teens, college students, young adults, catechumens, enquirers and their friends of all jurisdictions.

The retreat theme, "Why Become [Or Remain] Orthodox? How Do We Stand Up For And Live The Faith?" will be developed through a series of hands-on service activities, spiritual talks, fellowship, and outings.

For more information and registration, please visit www.stgeorgepantry.org/winteryouthretreat.html.

IOCC: Internships now available
Since 1998, International Orthodox Christian Charities [IOCC] has offered an internship program to undergraduates and recent college graduates interested in careers in international relief and development.

The IOCC Internship Program provides a unique opportunity to gain firsthand exposure to the operations of an Orthodox Christian international humanitarian aid and development organization.

IOCC internships typically require a 10 to 12 week full-time commitment during the months of May through September. There is also a possibility of a longer placement for a graduate from an advanced degree program. IOCC anticipates offering internship opportunities in, but not limited to, its offices in Jerusalem/West Bank; Addis Ababa, Ethiopia; and the United States (Baltimore HQ and/or Minneapolis field office).

A detailed plan for each intern will be developed based on the educational objectives of the intern and the needs of each field office prior to placement. However, the typical responsibilities of an intern include participating in field visits to project beneficiaries; working with IOCC staff to continually enhance the effectiveness, impact and implementation progress of ongoing projects; assisting in the production of project reports, success stories and other written communications; and conducting research on various projects and new initiatives.

Detailed information may be accessed at www.iocc.org/getinvolved_internship1.aspx.