OCA COMMUNITIES: St. Peter and St. Paul turns 100, and OCA Institutional Chaplaincy visitation brings clergy and caregivers together
St. Peter and St. Paul, Meriden, Connecticut, October 8-9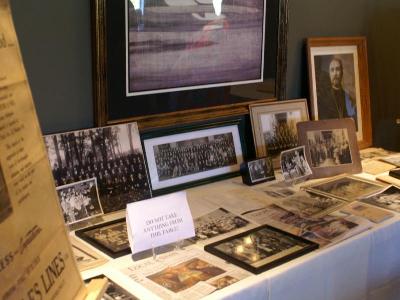 During the weekend of October 8 and 9 the faithful of St Peter and St Paul Church celebrated the 100th Anniversary of the parish. At the invitation of His Grace, Bishop Nikon, His Beatitude, Metropolitan Jonah and His Grace Bishop Melchisedek joined Bishop Nikon and the faithful of St Peter and Paul to celebrate the occasion. The parish was Vladyka Melchisedek's first assignment after completing his
studies at St Vladimir's Seminary.
On Saturday evening Great Vespers was served followed by a Litya and Cross Procession at which Metropolitan Jonah presided accompanied by local deanery clergy. Following the service a reception was held at which the faithful celebrated the birthday of Bishop Nikon with a cake and a singing of "Many Years." At the end of the evening Metropolitan Jonah met with college students from the parish and from the OCF at the University of Connecticut.
On Sunday Metropolitan Jonah presided at the Divine Liturgy together with Bishop Melchisedek, Parish Rector Fr Joshua Mosher, Diocesan Chancellor Fr John Kreta, District Dean Fr David Koles and visiting clergy Fr James Mason and Fr Gregory Dudash.
Following the Divine Liturgy an Anniversary Banquet was held at which Bishop Nikon presented the parish Brotherhood with a Gramota for their years of service to the parish and community.
A photo gallery of the event can be viewed here.
Formal OCA Institutional Chaplaincy Visitation, Sept. 30-Oct. 1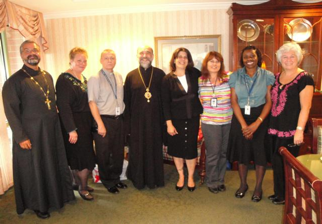 The Very Rev. Dr. Steven Voytovich, Director of the OCA Department of Institutional Chaplains, reports:
The institutional chaplain is one who serves in a caregiving context outside of one's own faith tradition, offering pastoral care to those in need. That context might be a hospital, nursing home, hospice or emergency care setting, among others. With up to 1600 hours of supervised ministry training called Clinical Pastoral Education (CPE), in addition to seminary formation, these chaplains utilize pastoral presence and listening skills to uncover the pastoral concerns of a variety of persons they are called to minister to, and respond by offering pastoral care with compassion even though these persons may be of another faith, or have no espoused faith.
In order for this ministry to occur, a number of communities and organizations are brought together. For our Orthodox Chaplains, they bring their Orthodox Christian Faith from their own journey and parish setting, and are commissioned and endorsed by the Orthodox Church in America, a nationally recognized endorsing body, to serve as institutional chaplains. With endorsement, chaplains can seek to be board certified by professional credentialing bodies such as the Association of Professional Chaplains (APC), the Association of Clinical Pastoral Education (ACPE) and/or the College of Pastoral Supervision and Psychotherapy (CPSP). With this credentialing, they serve in the institutional settings. Very rarely do these communities and organizations meet each other. This is the story of such a meeting.
On September 30th and October 1st, the very first formal visitation of an Orthodox Institutional Chaplain was conducted through our OCA Department of Institutional Chaplains. Fr. Alexandre Ioukliaevskikh, a priest of the Diocese of New York and New Jersey, and a chaplain serving mostly in a hospice-related context for the past eleven years, was to be awarded the Kamilavka for his service as a priest. Due to the gracious response of Bishop MICHAEL, this award was expanded to include formal recognition of his institutional chaplaincy service. On Friday, September 30th, His Grace, along with Archpriest Steven Voytovich, Director of the Department of Institutional Chaplains, visited Fr. Alexandre at Sunrise at Sheepshead Bay, a Sunrise Senior Living care facility in Brooklyn, NY. As a Hospice Chaplain for Compassionate Care Hospice, Fr. Alexandre visits hospice patients at a variety of institutional settings as well as home settings. He chose this facility for our visitation as he feels a strong connection here. In addition to seeing residents on his hospice service, Fr. Alexandre has been successfully leading a men's support group.
Members of the management team from Sunrise were joined by Compassionate Care Hospice staff as they led the rest of us on a tour of the facility where we met many of the residents and staff members. The staff knew well and in some cases profoundly shared, aspects of the residents' lives even though the residents themselves may not still remember. The surroundings consistently reflected the staff's strong focus on keeping a home rather than an institutional environment. Following a comprehensive tour, we were treated with great hospitality to lunch and a delightful afternoon of fellowship. As it was also Bishop MICHAEL's Name's Day, Fr. And Matushka Ioukliaevskikh brought a special cake to celebrate, and it was shared with all at the table.
The next morning, Saturday, October the 1st, Bishop MICHAEL celebrated the Patronal Feast Day Divine Liturgy at the Cathedral of the Holy Virgin Protection in Manhattan, where Fr. Alexandre is attached. During the Liturgy Fr. Alexandre was elevated to wear the Kamilavka. Following the Liturgy, an Akathist to the Theotokos was celebrated, along with the Commissioning Service formally recognizing Fr. Ioukliaevskikh's institutional chaplaincy service in the parish context. He was subsequently awarded the Commissioned Chaplain Pin. The service and pin were both developed through the Institutional Chaplaincy Department.
During lunch on Friday, Patricia Marron, Sunrise Health Care Coordinator, shared that she had grown up very near the cathedral. She surprised Fr. Alexandre and all of us who visited her facility the day before by coming and staying through all the services along with her fiancé! Represented at the Divine Liturgy was the fullness of Church through Bishop MICHAEL, Diocesan Hierarch, the parish family, Fr. Alexandre's institutional chaplaincy setting, and the Department of Institutional Chaplains. In viewing institutional chaplaincy through our sacramental context, during the Liturgy this day the relatedness of the Body of Christ and the greater community was made manifest, along with the greater fullness of the Eucharistic celebration itself through the fruits of ministry being brought by these caregivers.
Between the events of Friday and Saturday, Fr. Ioukliaevskikh's ministry as priest and hospice chaplain was celebrated fully. Thank you to His Grace Bishop MICHAEL for making his precious time available to participate in both days, and to the staff of both Sunrise and Compassionate Care Hospice who were so gracious in welcoming us and celebrating Fr. Alexandre's service. Thank you also to the Cathedral community for their warm welcome during their Patronal Feast Day on Saturday. This is the first of what are hoped to be many formal visitations of our institutional chaplains!