Prison Ministry Awareness Sunday June 9—"Unbind Him"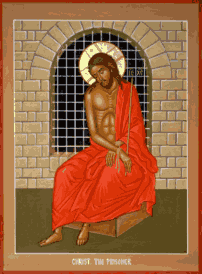 Each year on the sixth Sunday of Pascha, the Assembly of Canonical Orthodox Bishops of North and Central America calls on all Orthodox parishes in the US to observe Prison Ministry Awareness Sunday, this year occurring on June 9. The Assembly's Encyclical appeared on the OCA website on May 29, calling for all parishes to take up a special collection in support of Orthodox Christian Prison Ministry (OCPM).
The OCA Department of Christian Service and Humanitarian Aid (CSHA) urges the faithful to support OCPM in its Matthew 25 ministry. Visit the OCPM website to see the depth of Christian care given to the incarcerated, both Orthodox and those yet to become Orthodox, and read their testimonies. Learn about the Saint Lazarus Project, internships and volunteer opportunities. Let us all offer our prayers for the chaplains, the clergy and lay men and women volunteers who serve the desperate spiritual needs of our brothers and sisters in prison.
CSHA calls attention to two resources. The first is a new prison ministry article in the OCA Resource Handbook for Ministries titled "Unbind Him" by Father Stephen Powley. It gives insight to the needs of the imprisoned while serving time, and later upon release when they need the support of families and church communities.
The second resource is a workshop offered at the July 10-13, 2013 Parish Ministries Conference by Father Demetrius Nicoloudakis who tells of the active role he and his parishioners undertake in prison ministry. Come and see!

...................................
Unbind Him
By Father Stephen Powley
Many of the men and women coming out of the darkness of prison are very much like Lazarus. They have committed their whole lives to Christ, having rediscovered (or embraced for the first time) the Orthodox Faith. While in prison they found the True Faith, but they are coming forth with so very many things binding them up. They don't know how to start this new way of life…or to truly belong in a Church…or how to find employment…or how to locate housing…or how to re-establish relationships with family and friends…and the list goes on.
All of these can be fearful things that take great determination and support to accomplish. As these men and women are returned to life in our society, Christ continues to call the people nearby to unbind them and help them become all they can be in this life. … It is not a matter of "if" someone like this will one day come to your Church, but rather it is a matter of "when" someone like this will walk through your doors.
(Read more here...)