St. Cyril of White Lake Food Pantry serves the needy of Pittsburgh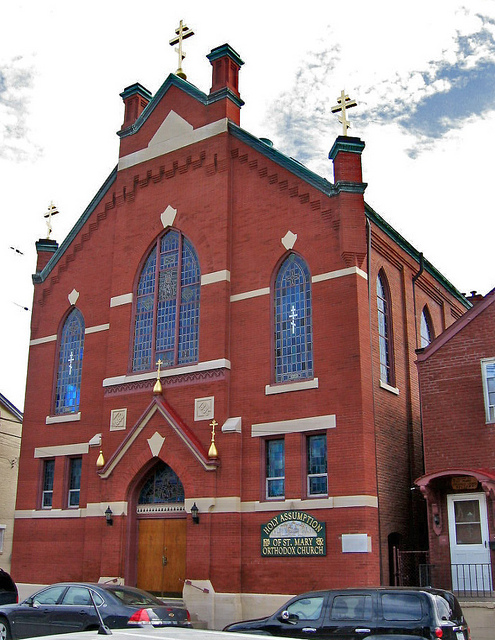 In the heart of Pittsburgh, an Orthodox ministry has unobtrusively provided food to 14,000 people and counting. St. Cyril of White Lake Food Pantry, housed in Holy Assumption of St. Mary Church on South 19th Street, opened its doors in 2010 and has been distributing food to needy families nearly every Thursday since then.
"While the host parish is St. Mary's," notes the Rector, Igumen Patrick [Carpenter], "the Archdiocese of Pittsburgh and Western Pennsylvania is an active partner in the food pantry ministry, and four jurisdictions and 35 parishes have been involved since its inception."
The youth of Pittsburgh originally generated the idea, explains Igumen Patrick. "It's amazing what can happen when young people work together! We wanted to reach out to the people not being helped by other food pantries. Outreach to the poor is the most fundamental thing the Church can do."
Word about the pantry spread quickly, despite virtually no publicity and only one low-key ad in a local newspaper. The criteria was simple: whoever walked in the door with a need, received food. "We eliminated the hoops that people often have to jump through," notes Igumen Patrick. "Anyone can receive help once a week. We just ask for their name and phone number so we can notify them if there's an issue with the food we've distributed."
The food pantry volunteers only spent $9000.00 on food last year, and the rest materialized through donations. Local merchants help St. Cyril stretch the dollar by offering deep discounts; stores provide quality food at bargain-basement prices. An Orthodox bakery donates fresh "old-style European bread" regularly, and "every penny that comes in goes out the door to help the poor – there is no overhead. It is Orthodox dollars at work," says Igumen Patrick.
Over time, the Pantry has enabled the underprivileged in the community to make valuable connections with people. "There's a naturally occurring linkage between the volunteers and the people they serve, " notes Igumen Patrick. "Laypeople with expertise, such as local medical professionals, have offered their skills and knowledge to help those who have physical needs." Occasionally, volunteers have also been able to distribute other useful items such as school supplies. The youngest pantry volunteer is 7 years old, and the oldest – a neighborhood legend and pillar – is 89.
"Our goal is simple: we want to help the hungry and reach them with God's unconditional love," concludes Igumen Patrick.
More information about the food pantry is available on the Archdiocese of Pittsburgh and Western Pennsylvania's website.