Unique partnership enables St. Athanasius Orthodox Church to run successful bread distribution ministry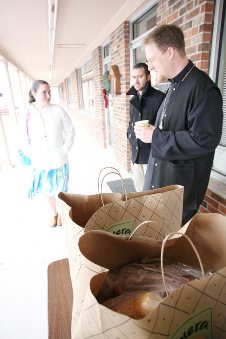 On January 12, 2012, The Jessamine Journal in Nicholasville, Kentucky (near Lexington), published a story about the Orthodox Church in America's St. Athanasius parish and its thriving bread ministry.
"St. Athanasius church gives out free bread every week, rain or shine," reads the headline. The article by reporter Jonathan Kleppinger explains, "A bread ministry started three years ago at Saint Athanasius Orthodox Church in Nicholasville has risen to meet the needs of the surrounding community. The Panera Bread store in Nicholasville donates its extra food to Saint Athanasius each Saturday night, and the church gives it away free every Sunday from 1-2 p.m. at its location at 926 S. Main St."
Fr. Justin Patterson notes that his parish's partnership with Panera could theoretically be replicated in churches across America wherever a community has access to a Panera restaurant.
"What's particularly great about this ministry," says Fr. Justin, "is that it is a real service to poor families; it costs us nothing (we just distribute bread we pick up every Saturday night from Panera); we distribute from our church's front porch and thus, we get to know local people; and this ministry is sustainable since we do it right after Liturgy and have several teams of people who take turns."
All leftover bread is donated too, the article notes. "Any food left after 2 p.m. Sunday is usually donated to the Rose Terrace nursing home on 3rd Street in Nicholasville. 'Even if nothing gets taken (at the church), the nursing home always needs it,' volunteer Sarah Holiday said."