The Risk of Faith
So Abram departed as the Lord had spoken to him…And Abram was seventy-five years old when he departed from Haran. (Genesis 12:4)
Where there is no risk, how much faith can there be? And if there isn't a little fear in your heart about what's going to happen, how risky is it? I once heard a description of being a business entrepreneur as "scary fun." You take risks, you could lose everything, but the payoff just might change your life. That's the life of faith. And it's just that kind of willingness to take risks, to leave the comfortable and familiar that is given to us in Abraham as the example to follow.
We get no details about how Abraham heard God's voice, or how it touched Abraham's heart and soul and mind to such a degree that he packed up his entire household and went on the road to an entirely uncertain future. All we know is that he trusted the One whose voice he heard.
By faith Abraham, when called to go to a place he would later receive as his inheritance, obeyed and went, even though he did not know where he was going. (Hebrews 11:8)
Isaiah's "Thus says the Lord," reports God's distress that His people have lost this sense of risk-taking, of depending on Him, of giving Him their hearts. The faith of Abraham has been reduced to a comfortable pattern of life and worship and study, and "commandments learned by rote."
The Lord needs our hearts. But without risk our hearts will never be engaged.
Minneapolis, Saint Vladimir's and Birmingham
This morning I served Presanctified Liturgy for our little flock of staff and faithful at Saint Sergius Chapel. Andrew Boyd wasn't there because he left at 5:30 am to fly to Minneapolis for a series of youth and young adult events at Saint Mary's Cathedral. Tonight he'll be giving a talk on "The Sacrament of Listening." Tomorrow it's an intriguing all-day retreat on "The Gospel We Preach [and the one we don't]. Among other things participants will analyze You Tube clips of preaching. Deacon Jason Ketz from Saint Mary's will speak about Saint Athanasius' On the Incarnation. And on Sunday, after leading the teen group, Andrew, Deacon Jason and the local Antiochian youth leader will do a podcast on teaching the Liturgy.
Metropolitan Tikhon heads up to Saint Vladimir's Seminary today for the Presanctified Liturgy this evening and an ordination.
* * *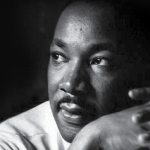 This Sunday after the Divine Liturgy, His Beatitude and I will go to Birmingham, Alabama for an inter-church conference on the 50th anniversary of Dr Martin Luther King's Letter From Birmingham Jail. The gathering is sponsored by Christian Churches Together and will ask church leaders to consider the current state of race relations and social justice in the United States. I'll have more to say about this next week, but right now I just want to report on a conversation about this with Father Basil Summer at breakfast after Liturgy. Father Basil, 87, is retired and serves here regularly. He has been an Orthodox priest for over 40 years, but in the 1960's he was a Lutheran pastor in Charleston, South Carolina and directly experienced the effects of the civil rights movement on church life in the South.
His parish council insisted that the parish must remain segregated, which was against the policy of the national Lutheran body. Blacks were not welcome. So when a black family appeared at the door one Sunday there was a crisis. Father Basil was in the altar preparing to serve the Lutheran liturgy when a distraught parish council member came in and told him what was happening. Father Basil (he was Father Bill at the time) told the usher to escort the family in and give them a good pew near the front. When he refused, Father Basil himself went to the door and brought the family in and seated them while he then went back into the altar to complete preparation for the service. A few minutes later another parish council member stormed into the altar and swore at him, saying, "You ____ n___-lover." Father Basil says "I was a younger man then, so I just grabbed him and pushed him out the back door of the sacristy into the street."
The service went on peacefully, but afterwards the council called for a special meeting the next day, when they presented a resolution stating that, "This parish will never be integrated, even unto eternity." Father Basil was deeply distressed by this and warned that he would immediately resign if they passed such a resolution. But the council voted unanimously to stay segregated and Fr Basil resigned right away.
Thirty years later, now as an Orthodox priest, he was invited back for a big parish anniversary and was treated with great affection and respect. And what most moved him was the sight of a now integrated congregation: altar boys, families, black and white together. With God's grace—combined with constant pressure and courageous witness— change is possible in even the most difficult issues.