Psalm 91
For He will give his angels charge of you to guard you in all your ways.
On their hands they will bear you up, lest you dash your foot against a stone.
You will tread on the lion and the adder,
 the young lion and the serpent you will trample under foot.
—Psalm 91:11-13

Then the devil took [Jesus] to the holy city, and set Him on the pinnacle of the temple, and said to Him, "If you are the Son of God, throw yourself down;
for it is written,'He will give His angels charge of you,' and
'On their hands they will bear you up,
 lest you strike your foot against a stone.'"[Psalm 91:11, 12]
Jesus said to him, "Again it is written, 'You shall not tempt the Lord your God.'"[Deuteronomy 6:16]
—Matthew 4:5-7
This is a reassuring prayer of God being with us refuge in times of trouble. Let's be clear: we are not exempted from trouble. But God assures his faithful servant "I will be with him in trouble" (91:15), just as He was with the three holy youths in the midst of the flames.
Psalm 91 is a prayer for fighting fears and doubts. Very cunningly Satan quotes the words of this psalm when tempting Jesus in the wilderness. "But the devil did not quote the sacred text in full," says Saint Jerome. "Craftily he left out the middle verse: 'to keep you in all your ways' because he knew it was aimed against him…He cited only the words that were of profit to him."*
Jesus shoots down the devil's twisting of scripture with a reference to Deuteronomy, 'You shall not tempt the Lord your God.' If you look up the original context of Deut 16, you'll see that it recalls Israel tempting the Lord at the waters of Massah (Exodus 17) through their murmuring and faultfinding. They questioned God's choice of Moses as leader, but more fundamentally "they put to the Lord to the proof by saying, "Is the Lord among us or not?" (Ex 17:7). This is the basic temptation in all times of trouble.
Psalm 91 is a prayer to rebuke the devil and strengthen us in such times, especially at night when we are left alone with our thoughts. Cassiodorus (c. 485-585), the Roman commentator, writes:
This psalm has marvelous power and routs impure spirits…Christ by His own power overcame the devil in His own regard, and likewise conquers him in ours. So this psalm should be recited by us when night sets in after all the actions of the day; the devil must realize that we belong to Him to whom he remembers that he himself yielded.*
Psalm 91 appears frequently in Orthodox liturgical life: the Sixth Hour, Great Compline, the funeral service, blessings of new homes and vehicles, and verses 1-2 are the Alleluia verses for Sunday, tone 6.
* In Johanna Manley, Grace for Grace: The Psalter and the Holy Fathers (1992), 340-344.
Research on Patriarch Tikhon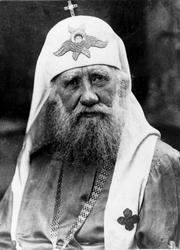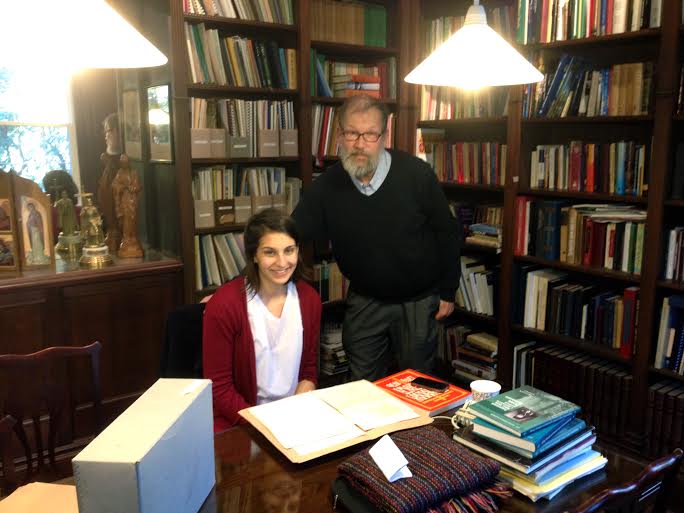 On Monday and Tuesday archivist Alexis Liberovsky welcomed Francesca Silano to do research on archives related to Patriarch Tikhon. She is a PhD student in History at the University of Toronto. Her doctoral dissertation is titled "The Veiled Language of Tikhon: Patriarch Tikhon, the Orthodox Church and the Soviet State." Ms Silano is mainly using the published Soviet interrogation archives and court records related to Patriarch Tikhon, but is also interested in his correspondence from earlier years in America (yesterday she was looking at the files of correspondence in 1899 from Father Theodore Pashkovsky, later Metropolitan Theophilus). She says that secular historians of the early Soviet period have overlooked, misunderstood or dismissed the particularly Orthodox Christian content of Patriarch's responses to Soviet authorities, and this is what she is exploring. Indeed, the secret police themselves labeled his speech as "the veiled language of Tikhon," because he spoke in Church, canonical and Christian terms that befuddled them, including love of enemies and his responsibility for all who were once baptized, even them.
His Beatitude left yesterday for a few days visiting Holy Myrhhbearers Monastery in Otego, NY and New Skete Monastery in Cambridge, NY.