Isaiah 11:10-12:2
Genesis 7:11-8:3
Proverbs 10:1-22
Love Covers All Sins
Hatred stirs up strife, but love covers all sins. (Proverbs 10:12)
Scripture is often the best commentary on Scripture. Take this verse from Proverbs. 1 Peter refers to this and puts it in the context of the Christian community living in light of the world to come, the eschaton.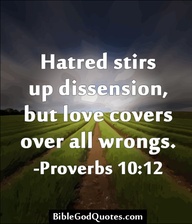 The end of all things is near. Therefore be alert and of sober mind so that you may pray. Above all, love each other deeply, because love covers over a multitude of sins. Offer hospitality to one another without grumbling. Each of you should use whatever gift you have received to serve others, as faithful stewards of God's grace in its various forms. If anyone speaks, they should do so as one who speaks the very words of God. If anyone serves, they should do so with the strength God provides, so that in all things God may be praised through Jesus Christ. To him be the glory and the power for ever and ever. Amen. (1 Peter 4:7-11)
But then there's another side. When we hear that "love covers all sins" we shouldn't take that to mean "cover-up." On the contrary, much of Proverbs is written to expose sinful behavior and make everyone in the community more mindful of what the Lord expects of His people in their day-to-day relations with each other. As Hebrews says,
In your struggle against sin, you have not yet resisted to the point of shedding your blood. And have you completely forgotten this word of encouragement that addresses you as a father addresses his son? It says,

"My son, do not make light of the Lord's discipline, and do not lose heart when he rebukes you, because the Lord disciplines the one he loves, and he chastens everyone he accepts as his son." (Hebrews 12:4-6)
Lest we excuse too quickly the bad behavior of others and ourselves the Old Testament readings during Lent remind us that the Lord is no namby-pamby parent. It is precisely His love that drives Him to expect more from us and from all His people.