Psalm 93
The Lord is King [reigns]; He is robed in majesty;

the Lord is robed, He is girded with strength.

Yea, the world is established; it shall never be moved;
2 Thy throne is established from of old;

Thou art from everlasting.

3 The floods have lifted up, O Lord,

the floods have lifted up their voice,

the floods lift up their roaring.
4 Mightier than the thunders of many waters,

mightier than the waves of the sea,
the Lord on high is mighty!

5 Thy decrees are very sure;

holiness befits Thy house,
O Lord, for evermore.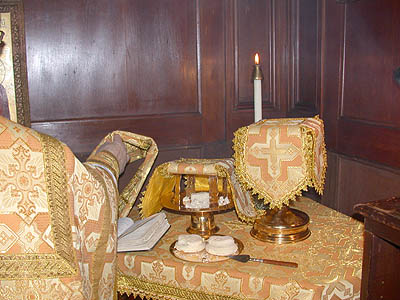 This short psalm is familiar from Great Vespers on Saturday evenings, when verses 1,2 and 5 are sung as the prokeimenon. The entire psalm is also read by the priest at every Divine Liturgy during Proskomedia as he covers ("robes") the diskos that holds the particles of bread symbolizing Christ—the Lamb of God—the Theotokos, saints, the living and departed.
Water is a life-giving blessing of course, but it also has a dark side. This psalm refers to the frightening power of floods and "the thunder of many waters." For some parts of the world devastating floods are all-too realistic as homes and lives are swept away. But floods are also a metaphor for troubles and afflictions that seem overwhelming. I always think of this as I cover the holy gifts. Whatever the flood, "Mightier than the thunder of many waters, mightier than the waves of the sea, the Lord on high is mighty!"
Syriac Orthodox Church Elects Patriarch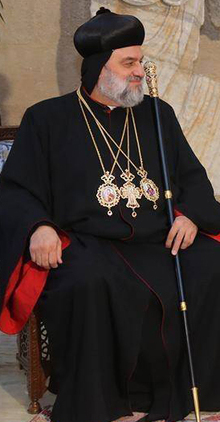 Tomorrow Father Leonid Kishkovsky and I (and possibly Metropolitan Tikhon) will be at a celebration honoring the new patriarch of the Syriac Orthodox Church, Moran Mor Ignatius Ephrem II. He was Metropolitan of the Syriac Church's Eastern United States Archdiocese and was elected this past Monday in Lebanon. The celebration with the Patriarch will take place at Saint Mark's Syriac Orthodox Cathedral in Teaneck, NJ.
His holiness is well-known to Father Kishkovsky, who worked with him over many years in the World Council of Churches, the National Council of Churches and Christian Churches Together in the USA, of which the Syrian Orthodox Church is a founding member. The patriarch was also Vice-Chairman of the Standing Conference of Oriental Orthodox Churches in America.
The faithful of the OCA have been praying since last April for Syriac Orthodox Archbishop Yohanna Ibrahim of Aleppo. He was kidnapped with Antiochian Orthodox Archbishop Paul Yazigi of Aleppo (brother of Patriarch John X of Antioch), when they were travelling together by car on a peace mission. Their driver—a Syriac Orthodox deacon—was killed in the attack.