Unseen Intercession
"For all these things we give thanks to Thee…for all things of which we know and of which we know not, whether manifest or unseen" (Divine Liturgy of St John Chrysostom)
I love that line in the marriage service that says, "…the prayers of parents make firm the foundations of houses." As a seasoned priest once told me, you don't need to teach parents how to pray for their children because parenthood is one continuous prayer. The prayers of parents go on and on into old age, and all the more as direct oversight of our children recedes into the past. My mother is 93 and of course she still prays for me, as I pray for my three grown sons. Most of the time the kids never see those prayers, they do what they're supposed to do and get on with their lives, often moving far away—as I did when I moved to Australia with my wife and son (we added two more later on) to serve my first parish as a priest in 1984 (Annunciation Church in Brisbane, which is still going strong, now as a parish of the Russian Orthodox Church Outside Russia).
The Dormition (or Falling Asleep) of the Mother of God—Theotokos in Greek—is about faithful, unseen prayer that defies the boundaries of death. I don't pretend to understand how this works, anymore than I understand how any prayer works. Except that it's about love. We don't know how long or short a time we will have on earth with our children or our parents, but the Christian hope is that even death cannot destroy whatever love was poured into that relationship. That's what we mean when we sing the hymns for today, "In falling asleep you did not forsake the world, O Theotokos! You were translated to life, O Mother of Life, and by your prayers you deliver our souls from death!"
According to physics, energy and matter cannot be destroyed, they can only be transformed. And so it is with love: it takes a different shape after death, but it cannot be destroyed.
Dormition at the Chancery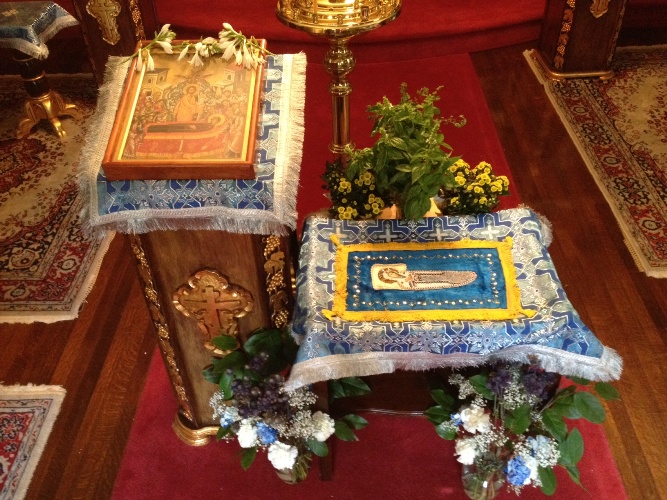 This morning our tiny chapel community gathered to celebrate the Divine Liturgy, bless flowers (traditional on this feast) and have breakfast together. It's still a work day, so this afternoon the OCA's internal auditors are coming in to review records and meet with the treasurer, Melanie Ringa.
Father Eric G Tosi stayed in Detroit after the Holy Synod meeting and then flew to Toronto for an academic conference on mission. He is working on a Doctor of Ministry research project on mission in Orthodox parishes and was invited to participate. The conference is sponsored by the International Association for Mission Studies, "an international, interconfessional and interdisciplinary professional society for the scholarly study of Christian witness and its impact in the world and the related field of intercultural theology". On Sunday he will serve and preach at Christ the Saviour Cathedral in Toronto, where Father Vasily Kolega is the dean.
This evening the Sexual Misconduct Policy Advisory Committee (SMPAC) will have a conference call to discuss progress on appointing staff to oversee and coordinate investigations and training in this difficult area.