"Widen Your Hearts"
"Then you shall see and be radiant, your hearts shall thrill and be enlarged." (Isaiah 60:5)
Saint Paul is gently—at this point—chiding the Corinthians for being self-preoccupied, like children. To mature as Christians they will need to widen the boundaries of their "affections," he says. But that process of widening the heart paradoxically requires ascetic effort and the conscious desire to be holy—which literally means being "separate," "different." It means making a break with habits that are incompatible with being a disciple of Christ. It means "cleansing ourselves of every defilement of flesh and spirit" (2 Cor 7:1). That is uncomfortable, and like the man with the unclean spirit in today's gospel we may find ourselves convulsing as that spirit is removed. But the promise of this narrow way is this: that our heart muscles will stretch beyond what we ever imagined. As Saint Isaac the Syrian said,
What is a merciful heart? It is a heart on fire for the whole of creation, for humanity, for the birds, for the animals, for demons, and for every created thing. At the recollection and at the sight of them such a person's eyes overflow with tears owing to the vehemence of the compassion which grips his heart; as a result of his deep mercy his heart shrinks and cannot bear to hear or look on any injury or the slightest suffering of anything in creation. This is why he constantly offers up prayer full of tears, even for the irrational animals and for enemies of truth, even for those who harm him, so that they may be protected and find mercy.
St Innocent and the 200th Anniversary of Fort Ross
This weekend there will be at big celebration of the founding of the Russian outpost at Fort Ross near San Francisco 200 years ago, in 1812. ("Ross" was originally Rus', for Russia.) As bishop Saint Innocent spent five weeks at the fort in 1836 and then visited a number of the Spanish Catholic missions (as gifts of appreciation for their hospitality, after returning to Sitka he sent them two small pipe organs he built with his own hands.)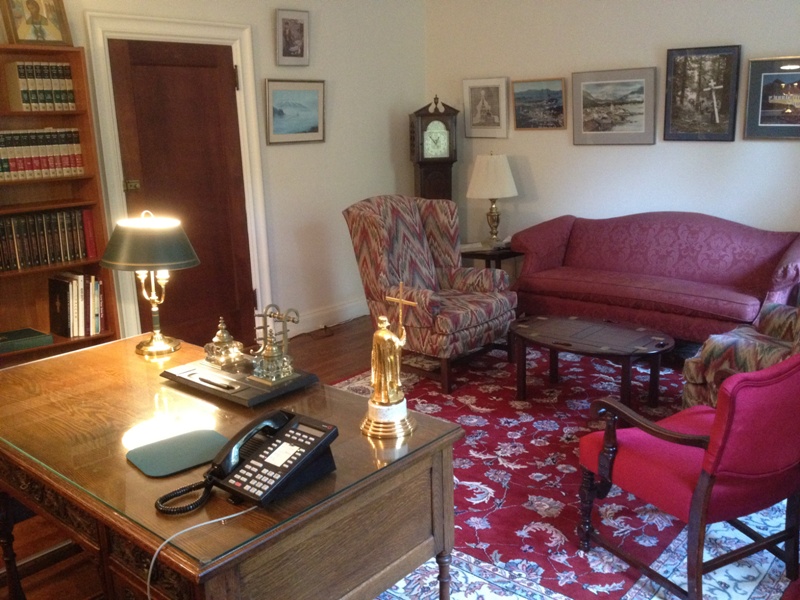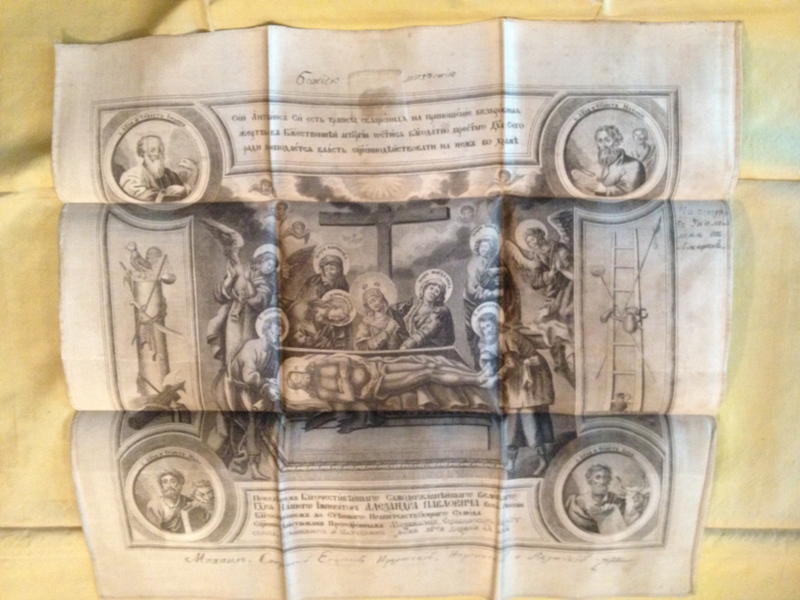 Across the hall from my office at the Chancery there's an office we call "the Alaska room," because it houses photos, paintings, books and memorabilia from Orthodox Alaska (Bishop Michael uses this room these days when he comes to the Chancery to work as OCA Administrator.) On the wall there is a framed antimension signed by Saint Innocent when he was bishop (this is the special cloth icon of Christ in the tomb on which the Divine Liturgy must be celebrated; no priest can serve a liturgy without an antimension signed by the bishop.) But we have a recent new discovery. The previous Chancellor, Father Alexander Garklavs, now serving in Parma, Ohio, was going through old antimensions that had been left in closet at the Chancery from the past. These are usually burned when they are no longer useful, but those of historical value are preserved. And buried among them he found an antimension that had been given to Saint Innocent when he was the young priest Father John Veniaminov leaving Irkutsk in Siberia and first going to the island of Unalaska in the Aleutian chain. The antimension is signed by Bishop Mikhail of Irkutsk and dated 1822.
Fort Ross is a national historic site protected by the US government, but the chapel will be the site of a special divine liturgy to celebrate the anniversary this Saturday, August 25th, with the concelebration of Metropolitan Hilarion (ROCOR), Metropolitan Hilarion of Volokalamsk (MP, Dept of External Church Relations), Archbishop Benjamin (OCA), Archbishop Kyrill (ROCOR) and Archbishop Justinian (MP).
For more on the saints of Fort Ross and Saint Innocent's visit www.wadiocese.com.