Maturing Wine
In today's epistle, Paul is still dealing with the aftermath of the troubling situation in Corinth that provoked a sharp earlier letter. We don't know what it was precisely but it involved someone who had caused grievous offense and been let off too easily, while the person who had been wronged was denied justice. This threatened the spiritual health of the community. Paul must have insisted that strong action be taken, because his letter caused a lot of upset in the community. He himself was unsure about taking this stand—his natural instinct was not to hurt others, even for good reason—but leadership required tough love, as every parent knows. As he writes today we get the sense of how uncomfortable he was with this, how he wants to make it better, to be able to approve how the community has now handled the matter, how well they received his emissary Titus, who after all was checking up on them. Paul wasn't satisfied with second-hand reports, if he couldn't get there himself he wanted to know from a trusted assistant the true picture of what was going on. He also wanted to convey personally—at least through Titus—the genuine affection he had for the Corinthians. But it was awkward, and we sense that Paul is twisting and turning trying to explain himself.
With communities as with us as individuals Christian maturity is about growth that takes time. This is what Jesus means when he speaks today in the gospel of Mark about new wine and unshrunk cloth. Eventually, given time and what Eugene Peterson calls "a long obedience in the same direction," by God's grace we and our communities become mature, satisfying old wine, or that comfortable, familiar piece of clothing that fits perfectly. But we're not there yet, and so we need to give each other the time and space to grow in Christ.
This Weekend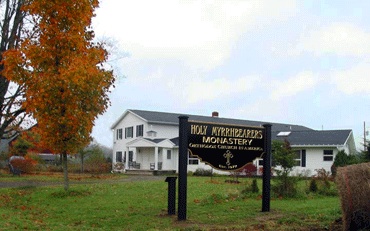 I'm at St. Tikhon's Seminary today for the Board of Trustees meeting just before the students return and the academic year begins. Tomorrow I'll be at St. Vladimir's Seminary for the opening orientation session for all students and then I'll meet with Dr Al Rossi to discuss the "effective pastor" project and plan for a joint session we'll be giving students on healthy boundaries and misconduct issues.
Fr. Eric Tosi will be with the nuns of Holy Myrrhbearers Monastery in Otego, NY. They will be celebrating the 35th anniversary of the Monastery, the 40th anniversary of the monastic profession of its Abbess, Mother Raphaela, and the 50th anniversary of Mother Michaela's monastic tonsure. We thank God for their peaceful witness over these decades. May God grant them many blessings and many years!
Alexis Liberovsky, OCA Archivist, is in San Francisco this weekend for the 200th anniversary celebrations of the Fort Ross settlement. Metropolitan Hilarion (Alfeyev) of Volokalamsk, who is head of External Church Relations for the Moscow Patriarchate is meeting today with Archbishop Benjamin of San Francisco and will serve at the celebrations with him.
Fr. Leonid Kishkovsky left yesterday for Crete to participate in the Central Committee meeting of the World Council of Churches. They will be planning for the WCC Assembly to be held next year in Korea (it meets every ten years), to which the OCA will be sending a delegation. Also on the agenda is a report by Tarek Mitri on the current situation in Syria and Lebanon. Mitri is a highly respected Orthodox scholar and statesman from Lebanon who has had wide experience in Christian-Muslim relations.