Courage
στήκετε ἐν τῇ πίστει, ἀνδρίζεσθε (1 Corinthians 16:13)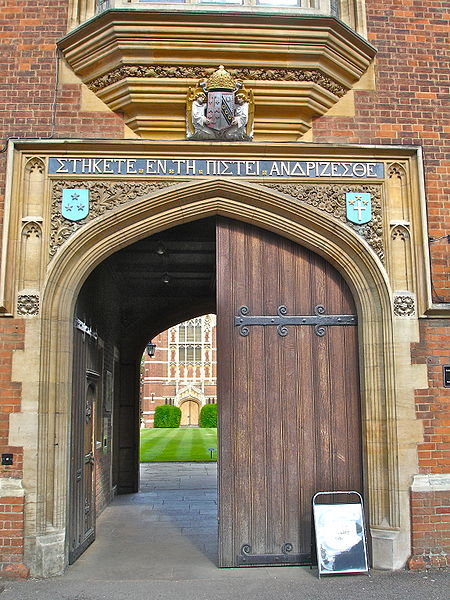 "Stand firm in the faith, be courageous." In 1995-2003 I lived in Cambridge, England. For the first part of that time I was studying at Tyndale House, a biblical research library, working on a doctorate in New Testament that I was doing at the University of Thessaloniki under Prof Petros Vassiliadis. He and my faculty advisors had recommended that I go to this biblical research center and work with Prof Bruce Winter, a specialist in St Paul (I was working on 1-2 Corinthians) and director of Tyndale House. Prof Winter was wonderfully hospitable, and I was welcomed as the only Orthodox in an otherwise mostly Evangelical group of scholars from around the world—PhD students and professors on sabbatical. It was an idyllic academic life. Everyone worked at their own desk during the day, but we broke for coffee at 11:00, tea at 4:00, and on Tuesday mornings we had a period of worship, with a few hymns, scripture reading and an always excellent sermon, usually by Dr Winter. I lived with my family about seven miles away and, like most Cambridge residents, I biked to work every day—in all weather. I was always encouraged by this inscription in Greek over the gates of Selwyn College as I cycled past. Be courageous, or literally, "be manly." It was that courage which marked St Paul's ministry. He could see the God-given opportunities, but he was also conscious of his weakness, the massive task, the persistent opposition. And yet he doesn't cut and run. On the contrary, he works all the harder because there are enemies. "I will stay in Ephesus until Pentecost, for a wide door for effective work has opened to me, and there are many adversaries" (1 Cor 16:8,9). Now that's a true shepherd.
Gone Fishin'
We all have days when it feels great to leave work early and hang up the "gone fishin'" sign. For most of us who are employed—and I'm conscious that in this struggling economy many are not—there is usually more on the "to do" list that can accomplished. It will always be there when we get back, which also means that it's hard to take days off without feeling guilty or worrying that if we turn the phone and computer off for a day, or even half a day, we'll get so behind it's not worth it. So Americans are notorious for not taking even the vacation days they have coming to them. And American employers in general are very stingy with vacations compared to the rest of the world. Our work ethic is still clearly shaped by the Puritans, as Alexis de Tocqueville remarked in the 1820's (a recent New York Times op-ed piece drew attention to this.) In addition to grudgingly giving and taking vacations, we see ourselves as hard workers. When interviewing for a job and being asked what your weaknesses are, it's a common ploy to say, "I'm a bit of a workaholic." Just the kind of weakness employers like.
So where does the church fit in here? Christian life is about balance. There are times when work has to be intense and with long hours. Pope John Paul II, who was well known for his productive work habits and extensive travel was once asked by a reporter if he wasn't doing too much. He replied, "Sometimes it's necessary to do too much." But if we are in this for the long haul, then we need to find ways to introduce rest and time with others. That should be normal, but for many of us it's not. Even the traditional Sabbath rest is gone for many and replaced by chores or other work we can't get to on weekdays.
All of this is to say that the chancellor took a half-day off yesterday to go deep-sea fishing with his brother-in-law and our two sons (cashing in on a fathers day gift). We're not fishermen really and we didn't catch anything to take home (pulled in a few small flounder, a porgie, a sea bass and several ugly sea robins), but the four hours on the water, a jovial boat with about 40 others doing the same, the sea air, seagulls and a break from it all was wonderful. I turned the phone off and will have to catch up today, but it was worth it.