A Gradual and Messy Cure
So He took the blind man by the hand and led him out of the town. (Luke 8:23)
This is a curious little detail. Jesus encounters a blind man, but instead of making a big spectacle of the cure in the middle of town, he leads the man away from the crowds. Perhaps this is direct contrast to the pressure He was getting from the religious leaders to deliver some big sign from heaven (8:11-12). Another unusual feature of this healing is that the cure is progressive and not magically instantaneous. At first thing are still blurry, and only after a second laying on of hands does he see everyone clearly. But it's the messiness of the cure that is most striking. Jesus spits on the man's eyes. In another version of the story he spits on the ground and makes a muddy paste. We are accustomed to miraculous quick healings in the gospels, but perhaps this is a more true to life picture of the way Christ heals our spiritual blindness over a lifetime. Gradually, quietly, privately, repeatedly, messily.
At Diocesan Assemblies in Virginia and New Jersey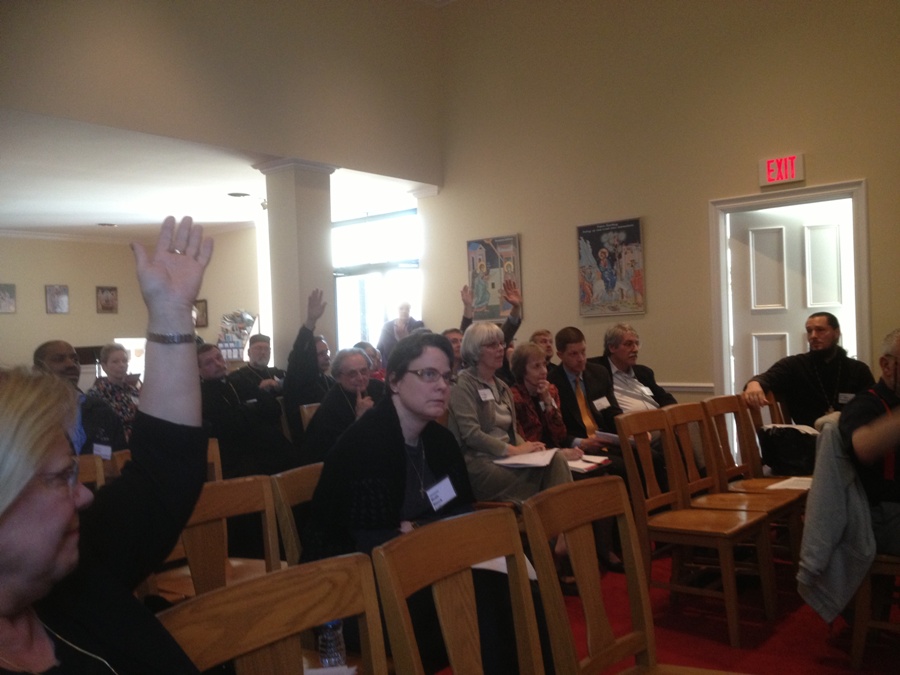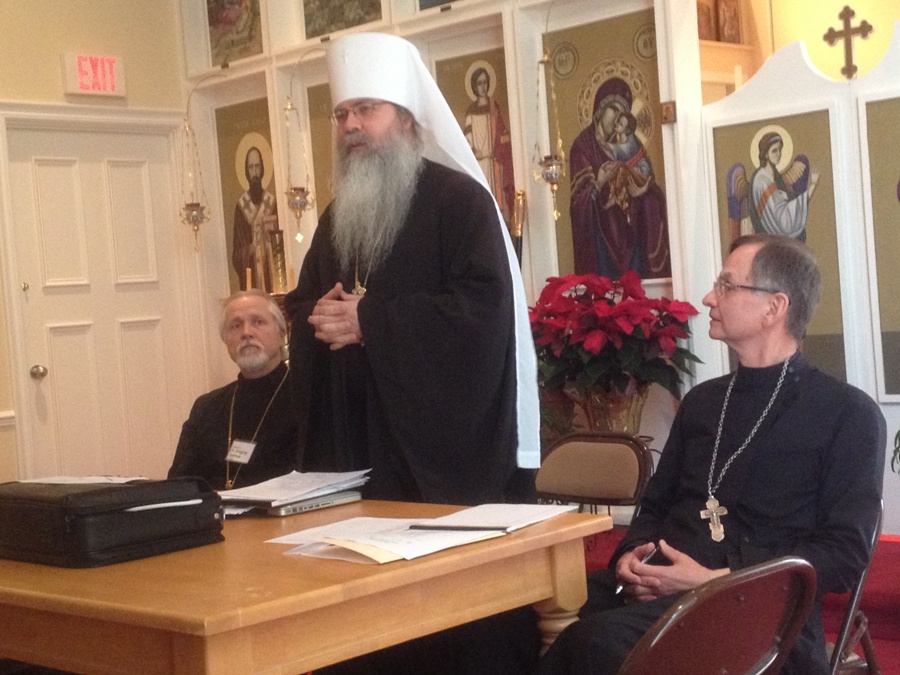 Last Saturday I had the privilege of participating in the first Diocesan assembly that the Archdiocese of Washington DC had with their new archpastor, Metropolitan Tikhon. Clergy and lay representatives met at Saint Luke's Church in McLean, Virginia for the liturgy and a day of reports and discussion on diocesan life. Metropolitan Tikhon noted that only last week the Diocese of Eastern Pennsylvania had given him a very moving farewell, but now he is committed to getting to know and serve his new diocesan family. While he has many responsibilities as the OCA's primate, he is grateful to be rooted in a diocese, the cornerstone of our church life. In the weeks before his enthronement (January 28, 2013) his pastoral visits will focus on parishes in the Archdiocese of Washington.
In his remarks to the diocese, His Beatitude outlined what he sees as the characteristics of a diocese that is working well.
It is has a strong sense clergy brotherhood.
It has an equally strong sense of being a diocese and not merely a collection of isolated parishes; "It's all too easy to be isolated, to focus only on 'my parish.'"
Administration is honest and transparent: "Personal relationships are crucial, especially when there are difficulties. I don't tolerate people talking behind each other's backs. If you have a problem with someone you need to talk with him or her. If you can't work it out, then other steps have to be taken, but the gospel way is to go first to your brother. We have to humble ourselves to do this difficult work. Don't look to the bishop to fix things with others until you have attempted to fix them first yourself."
Orderly church administration: "The administration of the church has to be in order so we can do the main work of the church: spreading the gospel, outreach to non-Orthodox, healing, education for everyone, including continuing education for the clergy."
Social outreach: "this must be basic for all of us in everything we do. Don't wait for a program, just do it, start on a personal basis. Join what's already in place in the community to help people in need. Go to a soup kitchen. Give a meal to homeless person."
Our churches need to be safe places where we ensure that no one is able to harm anyone else. Everyone needs to know the church's guidelines and procedures for protecting children and parishioners from misconduct and abuse.
* * *
With the blessing of Bishop Michael, today I'll be at Holy Assumption of the Virgin Church in Clifton, New Jersey for the annual assembly of the Diocese of New York and New Jersey. For the full program and reports see the diocesan website.