Let Us Love God Above All
Our society at large is hugely supportive of loving our neighbor, and that's a good thing. We would do well to have Orthodox Christians nominated as "CNN Heroes." Selfless service to others may in fact not only be good in itself, but it may be the single most important vehicle for the message of the gospel in a world tired of religious talk and looking for authenticity. It's not for nothing that Mother Teresa's order is called "Missionaries of Charity." Heroic goodness attracts attention, even among the most hard-bitten religious skeptics.
But we know that for many of us, whatever natural inclination we might have to serve others dries up pretty quickly. We need the love of God within us to be an unseen inner engine to keep us loving and serving others long after our natural resources dry up. That's why love of God is the first and greatest commandment.
St Herman was a sociable and extraordinarily loving human being, which is why he is still remembered. But even he had to confess, in that famous conversation he had with Russian naval officers one night in Kodiak harbor, that for all his years as a monk he had never really learned to love God. Perhaps that shocked them. But he didn't put himself above them or label them as "secular." He was there at that moment with them as a fellow Christian. The conversation made an impression on them, and they later reported that the humble monk then asked them all, together with him, to make the pact we see on many icons of St Herman, "From this day forth, from this hour, from this minute, let us love God above all."
It won't take more than a few seconds for us to make that same commitment.
Chancery Update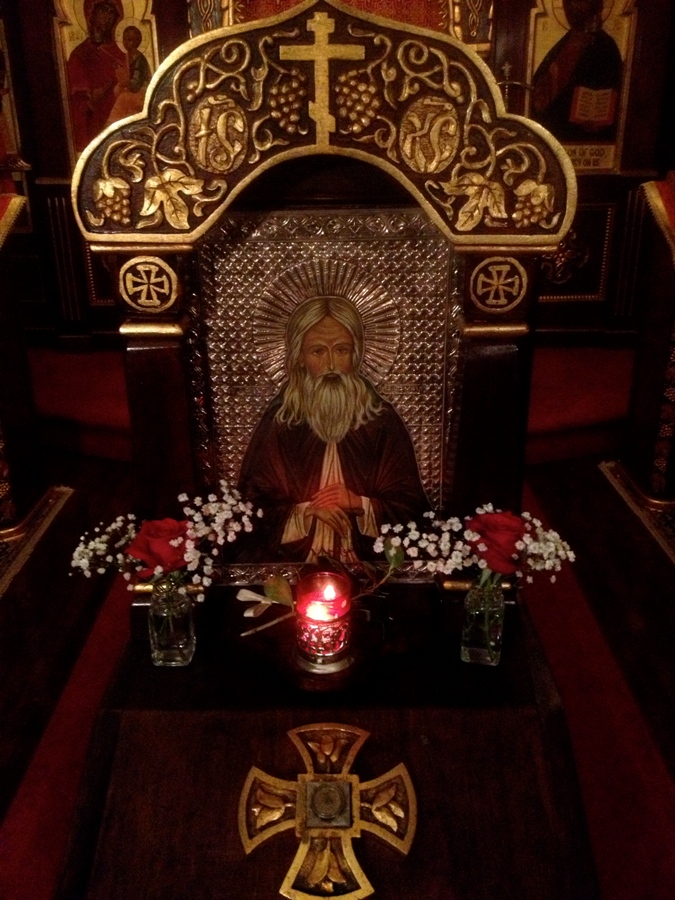 Today at the Chancery we had liturgy for the feast of Saint Herman, followed by a memorial service for Father Alexander Schmemann, who reposed December 13, 1983 (and Archbishop Kiprian, who died Dec 14, 1980 and is also buried at Saint Tikhon's Monastery).
On Monday Father Eric G Tosi and I met in Syosset with the Reverend Canon Mark Oxbrow, a priest of the Church of England (from Oxford) who is International Director of "Faith2Share," an organization that brings together missions of churches around the world, and seeks especially to strengthen indigenous missions. The Associate International Director is Anton Ponomarev, a member of the Russian Orthodox Church. I met Canon Oxbrow in England years ago and in 2003 joined him on a trip to Alaska to help facilitate conversation between Orthodox and Evangelicals (see www.faith2share.net).
Yesterday the Sexual Misconduct Policy Advisory Committee (SMPAC) met in a conference call to review cases, progress on revising the Policies, Standards and Procedures and developments regarding the process of appointing a coordinator for the Office for Review of Sexual Misconduct Allegations. Early in the year the committee will meet with Metropolitan Tikhon.
Father Eric Tosi is driving to Washington, DC to meet with the local committee planning events around the enthronement of Metropolitan Tikhon at Saint Nicholas Cathedral on January 27th. Those will be a full few days that will also include the March for Life (1/25), the enthronement of Metropolitan Anthony of the Ukrainian Orthodox Church (1/26) and a meeting of the OCA's Holy Synod of Bishops (1/28).