Envy
But they kept silent, for on the road they had disputed among themselves who would be the greatest. (Mark 9:34)
One of the features I most appreciate about the gospels is their realism. There's no sugar-coating of reputations. The apostles and disciples themselves, and then the early church, allowed the Twelve to be depicted as the human beings they were, which is not so very different from us. So today we see their envy, a sin that besets life—and church life—perennially.
They were walking along the road and Jesus must have been behind or ahead of them, because he couldn't hear clearly what they were saying. All He knew was that they were having an argument. Maybe he heard loud voices or saw hand gestures and gesticulating. But when He asked them what they had been talking about they were embarrassed to say. It's hard to admit that we are envious, especially when we are supposed to be humble followers of Christ. But there is always someone else who seems to be "greater"—or smarter, happier, holier, humbler, richer, more talented, more recognized, more beloved.
I was struck by the passage on envy in Metropolitan Tikhon's video address (11/28). He recognizes this as a current issue and gives Saint John Chrysostom's advice on combating envy through gratitude.
"Let us be thankful not only for our own blessings, but also for the blessings of other; for in this way we shall be able to uproot our envy and to make our love steadfast and genuine, for it is not even possible for you to keep on envying those for whom you give thanks to the Lord" (Saint John Chrysostom, Homily on Matthew, 25, PG 57.331).
Now there's a practical exercise for our spiritual life. Call to mind those we envy, think about their gifts, and then be thankful.
Zoe for Life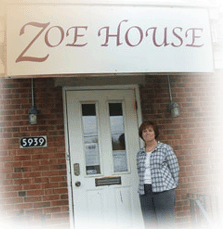 When I was at the New York-New Jersey Diocesan Assembly earlier this week there was an excellent presentation by Robert Kovalak on setting up a parish pledging system, based on the experience of Archangel Michael Church in Broadview Heights, Ohio. But as I was leaving I saw that he and his wife, Kathy Kovalak, were standing at the door with a small display about "Zoe for Life." Kathy is on the board and is the Executive Director of ZOE House in Parma, Ohio. I looked into what ZOE does and it deserves to be widely known, especially in the weeks leading up to the March for Life in Washington DC on January 25, 2013.
ZOE is a non-profit Christ-centered support organization with three major goals: to help women in crisis pregnancy, to assist Orthodox Christian couples seeking to adopt, and to create an Orthodox Christian abstinence program to educate young people.
Many women in crisis pregnancies wrestle with abortion, some with adoption and some with suicide. To encourage women to carry their infants to term, ZOE offers emotional and spiritual support, confidential access to professional agencies, and connection to potential adoptive Orthodox Christian families.
ZOE maximizes a birthmother's options by providing:
Emotional support
Referrals for professional counseling
Orthodox adoption options
Housing
Clothing
Medical Assistance
Prenatal care
Spiritual support
All of the above is taken from the ZOE website. They have a hotline number: 877-436-LIFE (5433).