Going Beyond the Letter of the Law
The epistle and gospel today each present us with an example of how the Church took a softer pastoral stance than some scriptural texts advocated.
Mark 10:11-12 makes it clear that marriage after divorce is adultery. "He said to them, 'Whoever divorces his wife and marries another commits adultery against her. And if a woman divorces her husband and marries another, she commits adultery.'" Other churches (the Roman Catholic Church most notably) adheres strictly to this position and forbids divorce in all circumstances, unless reasons can be found to justify an annulment, a declaration that the marriage didn't really exist in the first place. The Orthodox still regard divorce as a serious breakdown, but we reserve to the bishop the responsibility of reviewing the circumstances and deciding whether to grant permission to remarry.
In Hebrews 5:4-6, the author takes the strict position that after baptism there is no "second chance" for repentance. "For it is impossible for those who were once enlightened, and have tasted the heavenly gift, and have become partakers of the Holy Spirit, and have tasted the good word of God and the powers of the age to come, if they fall away, to renew them again to repentance, since they crucify again for themselves the Son of God, and put Him to an open shame." But the Church's attitude toward sin, confession, repentance and restoration evolved, especially in light of experience during early centuries of persecution, when many fell away. In the wake of rigorist demands to cut off the backsliders, it was the confessors who had suffered who advocated most for mercy.

In both these cases, the church has reserved its right to discern a path forward for the people involved, without being strictly bound to the letter of the law.
The Legal Committee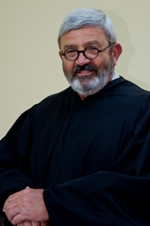 Yesterday His Beatitude and the Chancery officers met in Syosset all day with the OCA's General Counsel, Thaddeus Wojcik, and the new chair and past-chair of the Metropolitan Council's Legal Committee (LC)—Judge ER (Ray) Lanier and Gregg Nescott respectively— to discuss a range of issues concerning the good order of the Church. His Beatitude called the meeting to establish right from the beginning of his ministry a positive and practical dialogue with the Church's legal advisers. Some of the points under discussion included revision of the OCA's Policies, Standards and Procedures on Sexual Misconduct, and their better integration with the OCA's Statutes on Church Courts, establishing uniform procedures for church courts, review of the OCA's Statutes as a whole, collaboration between legal advisors and canon law experts, establishing a good network between the OCA's legal team and the lawyer(s) for each diocese and church institution, having a central repository of all diocesan and parish governing documents.
Judge Lanier's biography can be accessed through the Georgia State University College of Law, where he is a Professor of Law emeritus.
* * *
On a personal note, and along the lines of "rejoice with those who rejoice," while yesterday's meeting with the Legal Committee was in full swing, I had word from my oldest son, Andrew (30), that he had successfully passed his PhD defense at the London School of Economics and Political Science (LSE), with a dissertation on international law, From Faith in Rules to the Rule of Law: Constitutional Responsibilities in International Society. My late father graduated from LSE in 1949, which adds another layer of family happiness.
Anyone who has completed a doctorate knows what a hard slog that can be, how underappreciated it often is, and how many people they need around them to pull it off. So I raise a metaphorical glass to Andrew, to all who finish their doctorates and to their teachers and supporters along the way, with thanks to God who stands behind every good gift, success and satisfaction.