Faith in Spite of Fears
By faith Abraham obeyed when he was called to go out to the place which he would receive as an inheritance. And he went out, not knowing where he was going. (Heb 11:8)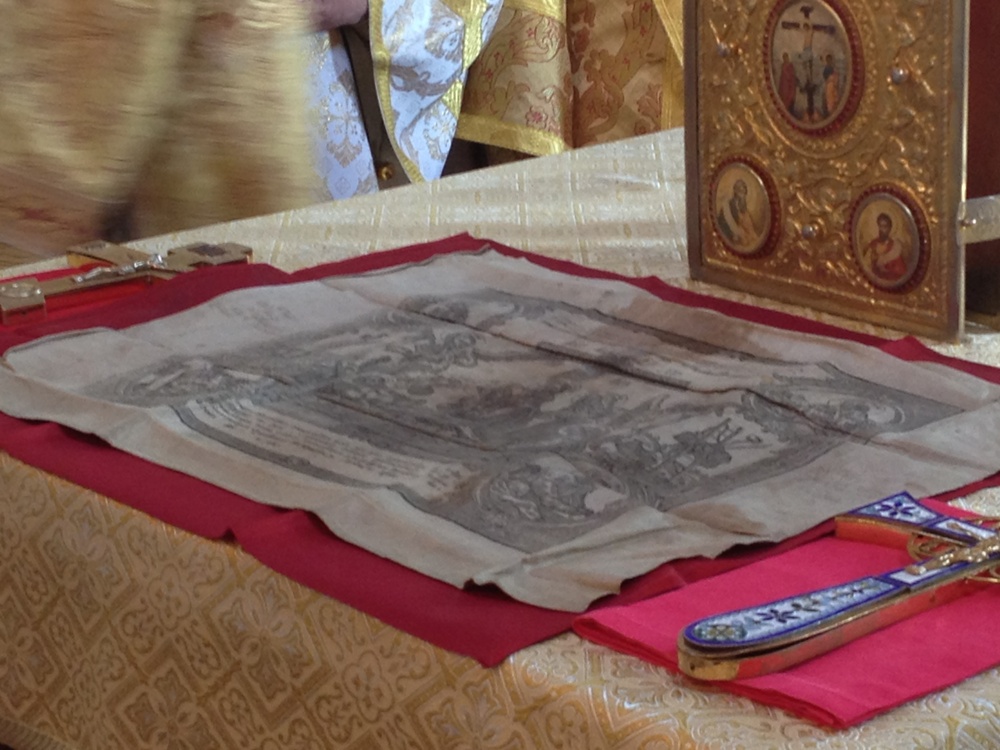 The Divine Liturgy for Metropolitan Tikhon's enthronement last Sunday was celebrated on one of the antimensions that Saint Herman of Alaska and the first band of missionaries were given when they left Valaam in 1793 and started on their way to Alaska. (The antimension is a cloth icon of Christ in the tomb on which the bread and wine are set out). They wouldn't arrive until a year later and all along the way they would have wondered what would face them. I'm guessing that a good part of their ascetic struggle was to wrestle with those fears and ask God to strengthen their faith. "Perfect love casts out fear" (1 John 4:18) but most of us aren't there yet. Walking by faith, in darkness and uncertainty, unsure of how things will work out but trusting in God to deepen our faith and give us the courage we need day by day—this is the bread and butter of Christian life. When a priest puts on his vestments before the liturgy it is striking that this is the theme of many of the prayers. God's grace poured out. The power of God's right hand. And as he puts on the liturgical belt, the priest says, "Blessed is God who girds me with strength. He made my feet like hinds feet and set me secure on the heights" (Ps 18:32-33).
Abraham is the quintessential biblical example of walking by faith, "not knowing where he was going" yet trusting in God. May we too be given faith to follow God in our own uncertain paths.
Doctor of Ministry at St Vladimir's Seminary
I'll be spending most of the day at Saint Vladimir's Seminary. As you may have seen, SVS is starting a Doctor of Ministry program and accepting applications for the incoming class of Fall 2013 (see story here). This is an online degree (with a week-long intensive on campus each semester) designed for those in ministry who already have a theological education and at least three years of practical experience.
In gearing up for next fall the seminary is bringing together faculty from SVS and outside who will be teaching the courses for orientation and training in distance education. Father Sergius Halvorsen is the director of the program and will present sessions today on the objectives of the Doctor of Ministry and the use of technology. Dr. Sebastian Mahfood, OP, who is Associate Professor of Intercultural Studies and Coordinator of Instructional Technology at Kenrick-Glennon Seminary, St Louis, MO, will lead another session and discussion on the nature of distance learning. He chairs the Association of Theological Schools Technology in Theological Education Group, and is coordinator of the Catholic Distance Learning Network (CDLN). He will be joined in the last session by Dr Daniel G. Van Slyke, Associate Professor of Church History at Kenrick-Glennon Seminary to give an overview of CDLN certification.
Tomorrow I'll be back at Saint Vladimir's with His Beatitude to celebrate the feast of the Meeting of the Lord.