Psalm 67
God be bountiful to us and bless us! Show the light of Thy countenance upon us and have mercy on us!
That we may know Thy way upon the earth, and thy salvation among all nations!
Let all the people give thanks to Thee, O God! let all the people give thanks to thee!
—Psalm 67:1-3 (LXX), 2nd Antiphon of Pascha
Anyone who sings in the choir or otherwise knows the services of Pascha and Bright Week will be familiar with these verses, which like the resurrectional verses of Psalms 66 and 68, are sung joyfully and energetically during the Paschal Liturgy. Psalm 67 is also read at the 3rd Hour of Christmas, reinforcing again the link between the Resurrection and the "Winter Pascha."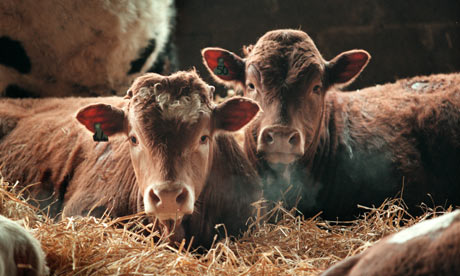 Less familiar perhaps is the use of Psalm 67 as part of the "Order of Supplication in Time of Ruinous Pestilence of Cattle."
OK, I had to laugh when I learned that liturgical tidbit. Once in my days as a priest in Ottawa, I did bless a small farm and its animals during Theophany (cattle, goats, chickens and pigs, as I recall). But otherwise my life is sadly farm-free.
According to the Book of Needs, if a herd of cattle is struck with illness the priest is called in to pray. Then, taking up the blessed hand censer, he places it amidst the [cattle] so that its scent wafts about the animals in the wind, and he reads Psalm 67. After this, the priest takes up the Holy Water and sprinkles all the [cattle] with it, saying: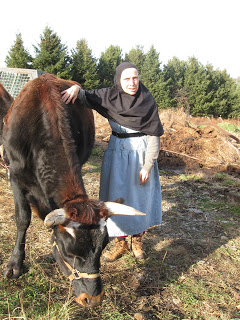 Let all sickness and infirmity be extinguished and driven away, and likewise all evil action of the demons from these [cattle], by the sprinkling of this holy water, in the name of the Father, and of the Son and of the Holy Spirit. Amen.

And he sprinkles the whole place where the [cattle] abide, and the hay (or fodder, feed, etc.) they eat, singing the hymn to the Theotokos.

Look down on the supplication of your servants, O all-pure One, and appease the cruel things rising against us. For having you alone as a firm and famed confirmation, we have acquired your mediation. Transform all our sorrows, O Sovereign Lady, that we who are supplicating you not be ashamed. For in faith we are crying out to you: rejoice, sovereign Lady, the help of all, and the joy, protection and salvation of our souls…

NOTE: For each day that the [cattle] are sick, and when other [cattle] become sick, Holy Water should be poured into their drinking water and the hay (or other food) should be sprinkled with it. In addition they should be given salt which has been blessed.
All of this may seem very odd and superstitious in a technological and urban age torn from awareness of the earth, of the natural world, of farms, and of unseen forces both demonic and divine. But what a picture of tender care we have here of what resurrection life will restore.
Missions Focus Group
As I reported yesterday, we will be having an all-day meeting at the Chancery to sort through proposals for advancing OCA missions and evangelization, review pros and cons of each and then forward the results to the bishops for a decision. We have a wide range of suggested possibilities:
A fulltime director for the Department of Evangelization
A professor of missions and evangelization to be shared by the seminaries
Distribute all funds to individual dioceses for their own projects
Competitive grants for a wide variety of projects, such as

Seed money for soup kitchens
Deanery retreat on evangelization training
Start up funding for a coffee house
Community programs to assist new immigrants
Outreach to local shelter/nursing home

A school for missions and evangelization
Projects for African-American, Alaskan and Spanish language missions
Training college students for campus missions
Multi-media web presentation of the Orthodox faith
Comprehensive inquirers/cathechism program
The meeting begins at 9:00 am with a prayer service in Saint Sergius chapel led by Metropolitan Tikhon.