Having a Bad Day
"Alexander the coppersmith did me much harm." (2 Tim 4:14)
One of features of St Paul that I most appreciate is his realism. Take today's epistle for example. He doesn't hesitate to say what is really going on, expresses genuine feeling, has real friends and real enemies and names them. Wow. His approach to reporting church news today would cause apoplexy to ecclesiastical spin-doctors.
There is something refreshingly liberating about Paul's ability to call (and call out) reality as he sees it. We all have our bad days, and often those bad days have someone behind them, a face that we can't get out of our minds. Yes, we always have to take our share of the blame when things go wrong, that's just normal mature adulthood. But sometimes we Orthodox Christians go overboard in humbly assigning all blame to ourselves. Saint Paul on the other hand looks at his collection of bad days in this letter and sees a lot of people who have let him down. One person in particular. Alexander the coppersmith did me much harm. May the Lord repay him according to his works.You also must beware of him, for he has greatly resisted our words (2 Tim 4:14-15).
In our own disappointments we may not have Saint Paul's boldness to name reality so clearly and publicly, but surely we can ask God to give us insight to name those disappointments to ourselves, a spiritual father and a trusted friend or two.
But that's not enough. In all his human disappointments Saint Paul comes back to Source of courage and confidence who keeps him and all of us going. But the Lord stood with me and strengthened me…And the Lord will deliver me from every evil work and preserve me for His heavenly kingdom. To Him be glory forever and ever. Amen! (2 Tim 4:17-18).
Chancery Update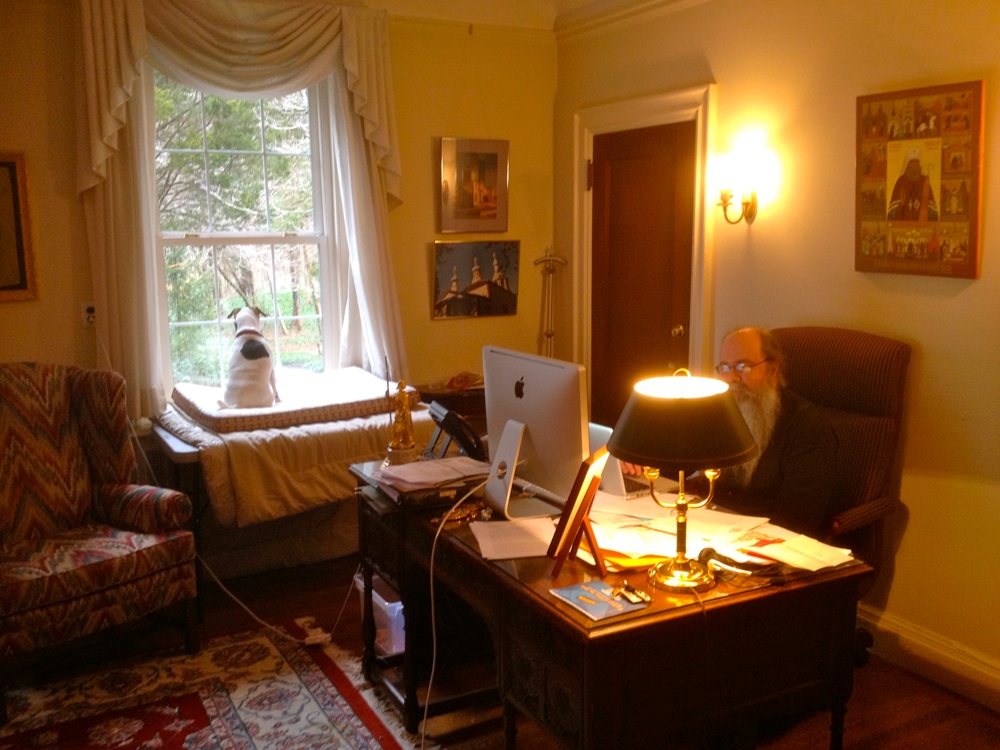 Yesterday was another day of working in the office with Metropolitan Tikhon. We met with Treasurer Melanie Ringa to discuss a number of financial and legal issues. And a good part of the morning was devoted to Andrew Boyd's six-month review as Executive Assistant. His main work is to serve as personal secretary to His Beatitude, but he also works for the Treasurer (accounts receivable) and the other officers (correspondence and general assistance). At the same time as head of the Youth Department
he oversees or participates in a wide array of events within the OCA and between Orthodox jurisdictions. He's doing an excellent job juggling all these responsibilities.
Yesterday evening, after the car was fitted with new tires, Metropolitan Tikhon headed back to Washington DC, this time to attend a conference for endorsers of military and VA Hospital chaplains.