Saint Anthony
Saint Anthony the Great is considered the founder of monasticism, but truthfully most of his teaching can be applied by anyone who desires to follow the Christian way. His 38 Sayings are a profound guide to Christian living and are widely available on line (his life can be read on the OCA website). Here are a just a few of his sayings.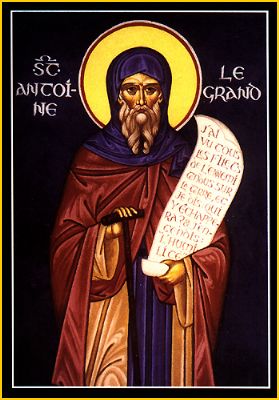 3. Someone asked Abba Anthony, "What must one do in order to please God?" The old man replied, "Pay attention to what I tell you: whoever you may be, always have God before your eyes, whatever you do, do it according to the testimony of the holy Scriptures; in whatever place you live, do not easily leave it. Keep these three precepts and you will be saved."
6. Abba Pambo asked Abba Anthony, "What ought I to do?" and the old man said to him, "Do not trust in your own righteousness, do not worry about the past, but control your tongue and your stomach."
9. He said also, "Our life and our death is with our neighbor. If we gain our brother, we have gained God, but if we scandalize our brother, we have sinned against Christ."
13. A hunter in the desert saw Abba Anthony enjoying himself with the brethren and he was shocked. Wanting to show him that it was necessary sometimes to meet the needs of the brethren, the old man said to him, "Put an arrow in your bow and shoot it." So he did. The old man then said, "Shoot another," and he did so. Then the old man said, 'Shoot yet again," and the hunter replied "If I bend my bow so much I will break it." Then the old man said to him, "It is the same with the work of God. If we stretch the brethren beyond measure they will soon break. Sometimes it is necessary to come down to meet their needs." When he heard these words the hunter was pierced by compunction and, greatly edified by the old man, he went away. As for the brethren, they went home strengthened.
19. The brethren came to the Abba Anthony and said to him, "Speak a word; how are we to be saved?" The old man said to them, "You have heard the Scriptures. That should teach you how." But they said, "We want to hear from you too, Father." Then the old man said to them, "The Gospel says, 'if anyone strikes you on one cheek, turn to him the other also.'" (Matt. 5.39) They said, "We cannot do that." The old man said, "If you cannot offer the other cheek, at least allow one cheek to be struck." "We cannot do that either," they said. So he said, "If you are not able to do that, do not return evil for evil," and they said, "We cannot do that either." Then the old man said to his disciples, "Prepare a little brew of corn for these invalids. If you cannot do this, or that, what can I do for you? What you need is prayers."
23. Further, he said that God does not send the same wars upon this generation as upon the ancients. For he knows that they are weak and cannot bear them.
Chancery Update
After spending the morning in the office I will drive to St Vladimir's Seminary in Crestwood, NY for the Board of Trustees meeting taking place today and tomorrow. This will be Metropolitan Tikhon's first meeting as President of the Seminary. The Board will do the normal work of reviewing reports, but in the evening will have dinner with the students (this is now a regular tradition) followed by a session on strategic planning. Tomorrow the meetings will continue throughout the day and end with Princeton University's Professor Peter Brown receiving an honorary doctorate from St Vladimir's and delivering the annual Alexander Schmemann lecture.