The Orthodox Church in America and Dr Martin Luther King
"Today, if you will hear His voice, Do not harden your hearts." (Heb 4:7)
I stayed home yesterday to watch the inauguration of President Obama, hear Archbishop Demetrios give the benediction at the lunch, and thought about Dr Martin Luther King, the civil rights movement and the Orthodox Church.
This year marks the 150th anniversary of the Emancipation Proclamation, and the Holy Synod issued a special letter to mark this crucial milestone. Slavery branded the history of the United States more than we care to admit, and it took the Civil Rights Movement to take this nation past that terrible legacy. The Orthodox Church in America, as the one Orthodox Church which purposefully identifies itself by name with America, has a particular duty to embrace its history, to discern its dark places and also its saints.
The hallmark of the civil rights movement was non-violence. It was not easy to keep this up in the face of constant provocation and violence from opponents. Indeed there were many within the African-American community who lost patience with Dr King and his peaceful methods of civil disobedience. But he was insistent that social change would only be long-lasting and deep rooted if hearts did not harden and the movement remained non-violent.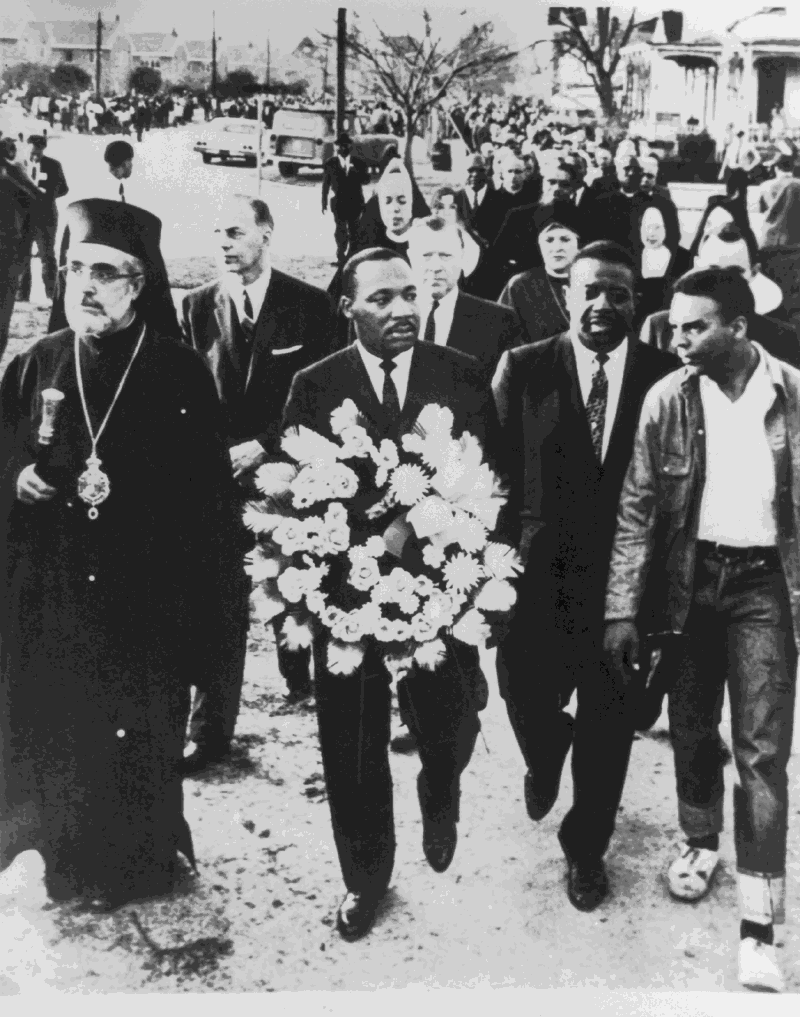 One of the only Orthodox leaders at the time who joined King was the late Archbishop Iakovos, who walked with King and civil rights leaders in Selma in 1965 to express shared outrage at the death of William Reeb, a white Unitarian minster and activist beaten to death by the Ku Klux Klan. Archbishop Iakovos said,
"Our Church has never hesitated to fight, when it felt it must, for the rights of mankind; and many of our Churchmen have been in the forefront of these battles time and again….Let [Reeb's] martyrdom be an inspiration and a reminder to us that there are times when we must risk everything, including life itself, for those basic American ideals of freedom, justice and equality."
I can't claim to have done anything to participate in the civil rights movement. That there was such a movement only came home to me in 1967, when I was 12 years old and the daughters of slain civil rights leader Medgar Evers moved to Claremont, California and started at the junior high school I was attending. Their mother gave the invocation at the inauguration yesterday. But the courage of the civil rights leaders, especially those who like Martin Luther King whose convictions and actions were deeply shaped by their Christian faith, deserves to be lifted up, not just by government offices and schools, but by our churches.