Joyful Groaning
The Christian life is full of paradoxes. One of the signs of the Spirit dwelling within us is joy and energy in God, a fulfillment of Psalm 51, "restore to me the joy of thy salvation and uphold me with a willing spirit" (Ps 51:12). At the same time the Spirit groans within us with sighs "too deep for words," as we mourn sin, suffering and sadness. This too fulfills Psalm 51, since "the sacrifice acceptable to God is a broken spirit" (Ps 51: 17). The Spirit prays with us and within us, re-shaping our inward "eye" to look at ourselves and out on the world with the eyes of God. This is what we ask for every time we ask the Spirit to "come and abide in us." But for us as Christians this reshaping is much more specific. We are asking the Spirit to shape us into a true human being according to the image of Christ. "It is enough for the disciple to be like his teacher, and the servant to be like his master" (Matt 10:25). God desires that we would be "conformed to the image (eikon) of His Son" (Rom 8:29). Accompanied by the Spirit, with joy and groaning living side by side within us, we live in the assurance that "all things work together (synergei) for good…" (Rom 8:28), that "if God is for us who can be against us?" (Rom 8:31), and that nothing can separate us from the love of God in Christ Jesus (Rom 8:39).
Archbishop Nikon's Visit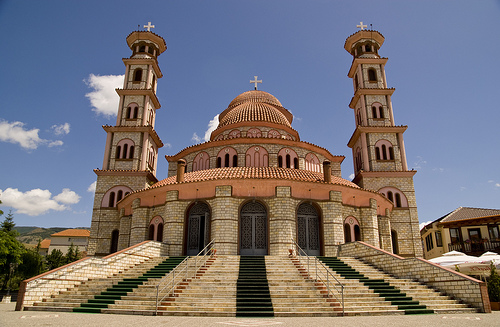 Archbishop Nikon is a busy man. He came down from Boston to visit the Chancery as chair of the Pension Board, which met on Tuesday (this is important work and I'll give it more attention in a future posting.) He oversees the Diocese of New England. He oversees (temporarily) the Diocese of the South and will preside at the assembly in July (in Miami) that will put forward a candidate to be their bishop. And he is Archbishop of the OCA's Albanian Diocese, which can be credited historically with helping to give birth to an Albanian Orthodox Church. Archbishop Theophan Noli (1882-1965), who is buried in Boston, organized an Albanian church in the US at a time when this was impossible in his home country (he is an extraordinary church leader, scholar and statesman who went on to become the first Prime Minister of Albania, in 1924).
Archbishop Nikon will be travelling to Albania this weekend to celebrate the consecration of the new cathedral in Tirana and Archbishop Anastasios' 20th anniversary of service in Albania. Archbishop Anastasios (Yannoulatos) has led a remarkable revival of the Orthodox Church in Albania after decades of brutal persecution. 145 new churches have been built, numerous monasteries, a seminary, social service and training centers of all kinds. And his church cared for refugees (both Christian and Muslim) from the Bosnian war and Kosovo.
Archbishop Nikon will be in Tirana together with Archbishop Demetrios (Greek Orthodox Archdiocese of America) and Bishop Ilia (Katre) of the Ecumenical Patriarchate's Albanian diocese in North America.