Psalm 120 A Song of Ascents
In my distress I cry to the Lord, that He may answer me:
"Deliver me, O Lord,
 from lying lips,
 from a deceitful tongue."

What shall be given to you?
 And what more shall be done to you,
you deceitful tongue?
A warrior's sharp arrows,
 with glowing coals of the broom tree!

Woe is me, that I sojourn in Meshech,

that I dwell among the tents of Kedar!

Too long have I had my dwelling
 among those who hate peace.
I am for peace;
 but when I speak,
they are for war!
The "Songs of Ascent," Psalms 120-134 are familiar to everyone who has participated in the Presanctified Liturgies of Great Lent, where they are read or sung as the three antiphons. Originally they were songs of pilgrimage, as Jewish worshippers "went up" to Jerusalem for Passover, Pentecost or the Feast of Booths (Tabernacles). Now they are part of our pilgrimage to Pascha and the Resurrection.
Psalm 120 expresses much about focusing on the spiritual life, as we do more intently in Great Lent.
In all times of distress—physical, emotional, spiritual—the Lord hears us. The Septuagint translation of verse 1 is better: "In my distress I cried out to the Lord, and he heard me." This emphasizes that our past experience of God's listening enables us to pray confidently in the present, knowing that sooner or later our prayer will be heard. Just that sense of being heard is often enough of an answer, even when nothing else changes around us.
We ask to be delivered from "lying lips" (of others and our own.) We are followers of the One is the Truth, and we are called to follow the truth wherever He leads, even to our own discomfort. As a morning prayer puts it, "in all my deeds and words, guide my thoughts and feelings…teach me to act firmly and wisely, without embittering and embarrassing others." The Lord will find a way to reprimand deceit painfully, like flaming arrows (the broom tree is still used as desert fuel in parts of the Middle East).
We are like aliens sent far from Jerusalem into exile in hostile foreign lands (Kedar was in the distant southeast of Syria; Meshech was beyond the Black Sea in modern Georgia and Armenia). Despite the anger and violence around us (and also within us), we are called to be followers of the Prince of Peace.
Update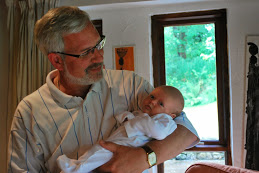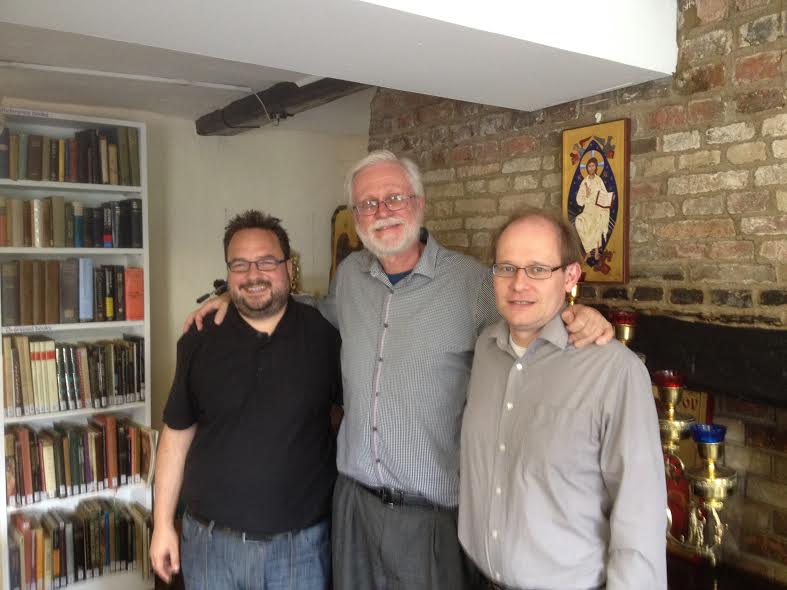 My wife and I returned from England late this past Sunday afternoon. We had a very blessed time visiting with our new granddaughter for the first time (now seven weeks old), family and friends, including friends in Dublin on the way back. We also stopped in Cambridge to see the work of the Institute for Orthodox Christian Studies, which we had a hand in starting in the late 1990's (the OCA's own Father David Lowell is currently an MA student there, on leave from the Diocese of the West.)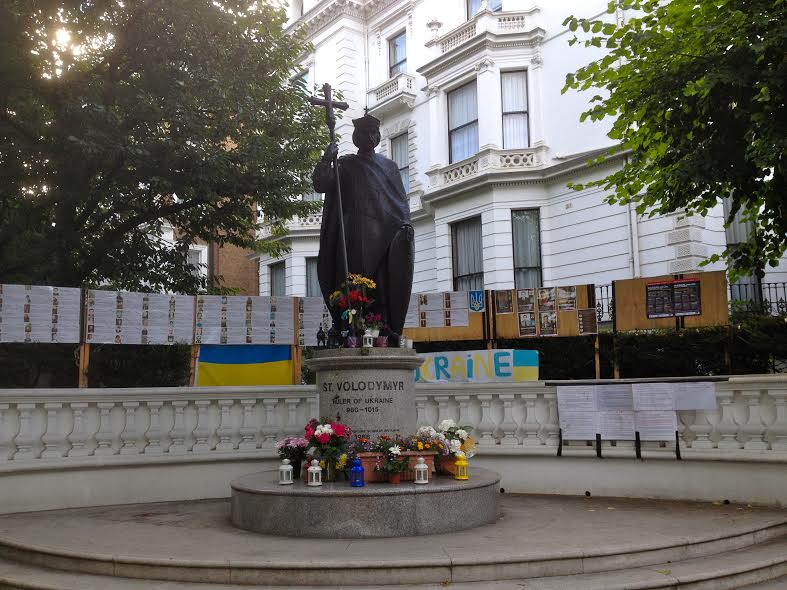 In London we stumbled upon a statue of Saint Volodymyr, around the corner from where my sister and brother-in-law live, near the Ukrainian Embassy. The statue was surrounded by photos of those who were killed in the months of violence earlier this year on the Maidan in Kyiv.
* * *
Today is Metropolitan Tikhon's birthday. May God grant him many blessed years! He returns this Friday from the French Alps after a well-deserved vacation and visit with his family.