Prophet Elijah
"The prayer of a righteous man has great power in its effect. Elijah was a man of like nature with ourselves and he prayed fervently…" (James 5:17)
If you go back and read the accounts about Elijah in 1 Kings 17-19 it is striking how intense, fervent, bold and fearless he is in his fight (well, God's fight) with the idolatrous prophets of Baal. He has a certainty about his mission that borders on arrogance as he competes with these "prophets of shame," telling them to pray a little louder to their "god" because he seems to be deaf! And yet it is also comforting to know that this powerful man of faith was also "a man of like nature with ourselves." His victory stirs up the fury of Ahab and Jezebel and he flees into the desert. He has times of fear and times of despair, when he just wants to hide and die. "And he asked that he might die, saying, 'It is enough; now, O Lord, take away my life; for I am no better than my fathers' (1 Kings 19:4). But the Lord sends an angel to feed him and to remind him that he is a normal human being. "Arise and eat, else the journey will be too great for you" (1 Kings 19:7). There are times when you and I will be called to live especially intensively, in our family life, at work, in our communities, at school. But the Lord will also remind us along the way that we are human beings, just like everybody else, who need food, drink and rest.
The Lord also makes it clear that all of life is not one long intense adrenalin high. We need to just sit still and wait and be patient sometimes. That is frustrating for activists who are used to making change happen now. "Behold, the farmer waits for the precious fruit of the earth, being patient over it until it receives the early and the late rain. You also be patient. Establish your hearts, for the coming of the Lord is at hand. Do not grumble against one another, that you may not be judged; behold, the Judge is standing at the doors" (James 5:7-9).
Diocese of South Assembly Concludes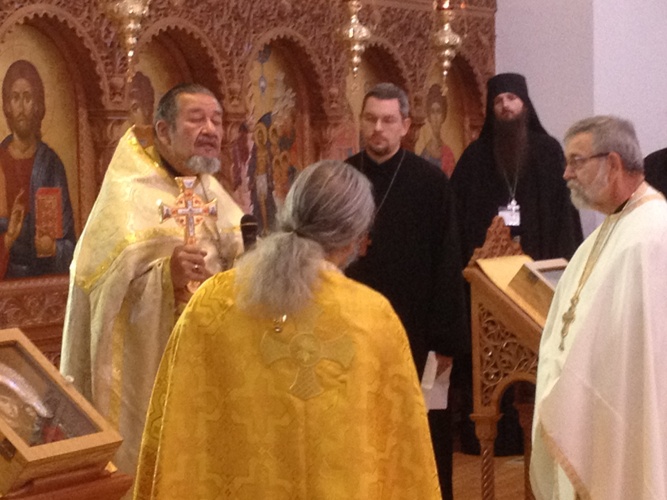 It was a privilege for me to be part of the Assembly, especially in these days when many are feeling hurt about the past and anxiety about the future. Archbishop Nikon's presence and words had a calming effect throughout the week, and last night, at the closing banquet, it was so obvious to me that this is not a church in turmoil. There was a reassuring spirit of good humor and friendliness and warmth throughout the evening. So despite what you might read elsewhere on the internet, the Church is in good hands at every level, with committed, steadfast, faithful, patient and hard-working clergy and laity. It's a sign of human maturity when people can live with uncertainty and "noise" and still take care of responsibilities with decency, a sense of humor and joy.
I was asked to say a few remarks at the banquet and I noted that today marks the 60th anniversary of ordination of one of the OCA's leading priests. Father Sergei Glagolev was ordained to the priesthood on July 20, 1952. A number of years ago my friend Father John Shimchick and I interviewed Father Sergei and asked how he decided to become a priest. He said the inspiration went back to the time he was a young teenager, growing up in a very Russian community in the Midwest. His father was a priest (in fact some twenty generations of Glagolevs were priests), but Sergei had no interest in following this family tradition. One Sunday afternoon, in the 1930's, there was to be a parish meeting, and the children were told to play outside. But as the meeting was going on Sergei looked in at the window and saw a tumultuous scene. People standing up and shouting, angry faces, gesticulating, pointing fingers. And then he saw his father sitting calmly at the front. And at that moment he told himself, either my father is a total idiot, or else there really is something to this Christian faith.
Now that is an example I hope all of us can follow. Many years Father Sergei! And may God grant a peaceful life, health, salvation and prosperity in all good things to the clergy and faithful of the Diocese of the South.