Moscow: Day 3 (July 23)
Metropolitan Tikhon, Bishop Alexander and the OCA delegation drove yesterday to Sergiev Posad—about two hours from Moscow—to visit the Holy Trinity-Saint Sergius Lavra (founded by Saint Sergius of Radonezh), the Moscow Theological Academy and the ecclesiastical goods factory nearby at Sofrino.
We were met at the gates of the 15th century monastery—with bells ringing—by Archbishop Evgeny, Rector of the Moscow Theological Academy, and Archimandrite Alipy of the Lavra (representing Bishop Theognost, the abbot, who was away), and a large group of monks who sang us rapidly through the monastery from one chapel to the next, venerating relics as we went, beginning with Saint Sergius and ending with Saint Innocent of Moscow and Apostle to America.
Archbishop Evgeny—who has been rector since 1995— led us in to the Moscow Theological Academy. Protodeacon Igor Mihailov took us through the Academy museum and then the hosts and delegation had lunch together and discussed aspects of theological education and formation for church service.
For something completely different we drove to Sofrino for a brief tour of the Sofrino factory led by the chaplain, Father Vadim. The factory has 3,000 employees and a prayer service opens every work day. The chapel is too small for everyone to be present, but on Thursday mornings the various departments take turns coming together at a liturgy. The factory was founded in 1980 by Patriarch Pimen (with 250 employees) but the opening of the Church and the demise of the Soviet Union brought an explosion in demands for church goods. One of the early challenges was finding enough skilled craftsmen and training new ones to meet this demand. Feeding the workers was also an issue in the early days when food supplies were scarce. The factory still produces its own vegetables for its employee dining room, but in past years hundreds of cows, pigs and chickens were also kept to feed the staff.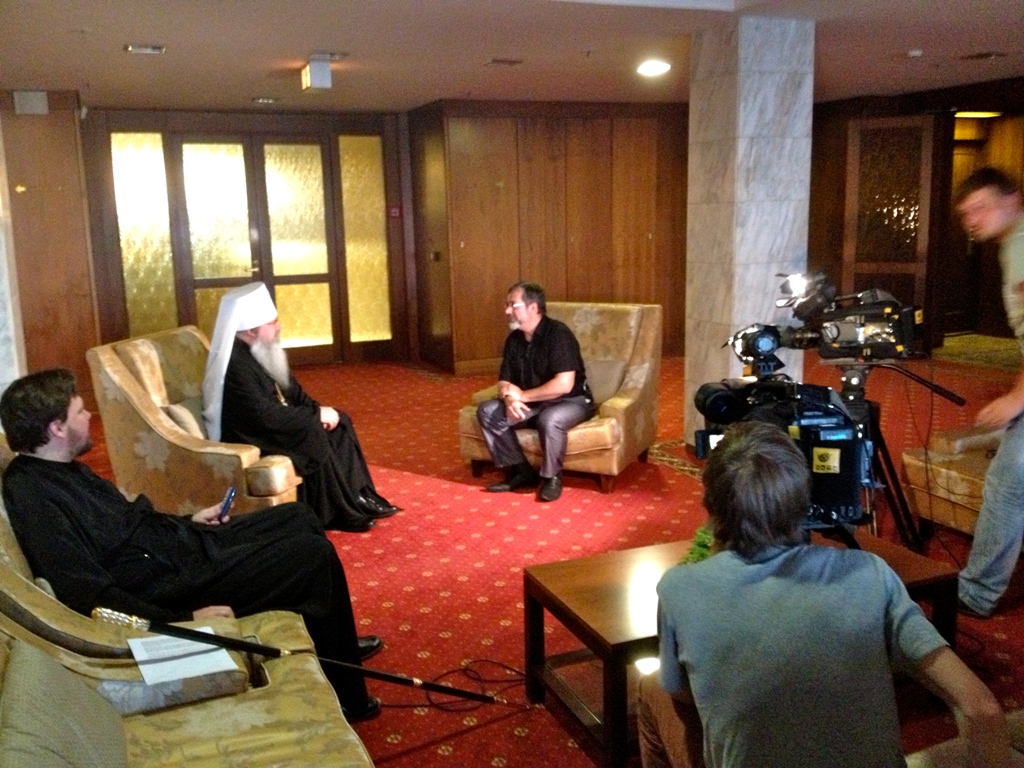 Back at the hotel, from 8 to 9 pm Metropolitan Tikhon was interviewed for Soyuz TV. The questions came in Russian, I translated them into English and our guide—Father George Roshchin—translated His Beatitude's answers into Russian. There were questions about the Metropolitan's own path to the Orthodox Church, being Orthodox in the United States, reactions to moral questions and "ultra-tolerance" in the US, American saints, contemporary sanctity and the influence of Father Seraphim Rose (who is widely revered in Russia, especially among those who first experimented with eastern religions). Other questions probed how Metropolitan Tikhon is addressing the OCA's troubles of the past decade, relations among the various Orthodox jurisdictions in the US, hopes for Orthodox unity through the Assembly of Bishops and His Beatitude's impressions on his first visit to Russia as primate of the OCA.
A photo gallery can be viewed on the OCA web site and Facebook page.