Moscow: Day 4 (July 24)
Yesterday was the centerpiece of our stay in Moscow: the Divine Liturgy at Christ the Savior Cathedral commemorating the 1025th anniversary of the Baptism of Rus'. But one of the themes of the celebration is also the second baptism that has been taking place these past twenty-five years. So we sang "As many as have been baptized into Christ have put on Christ," and the baptismal prokeimenon: "The Lord is my light and my Savior, whom shall I fear? The Lord is the defender of my life, of whom shall I be afraid?" Those were powerful words ringing out in a cathedral that had been destroyed by the Soviet regime in 1931 and replaced by a swimming pool. The fact that the cathedral has been resurrected, that we were praying in this place with Orthodox primates and representatives from the Orthodox Churches around the world, with hundreds of bishops and priests and a crowd of faithful that could not fit inside this cavernous edifice was powerful confirmation of those baptismal words.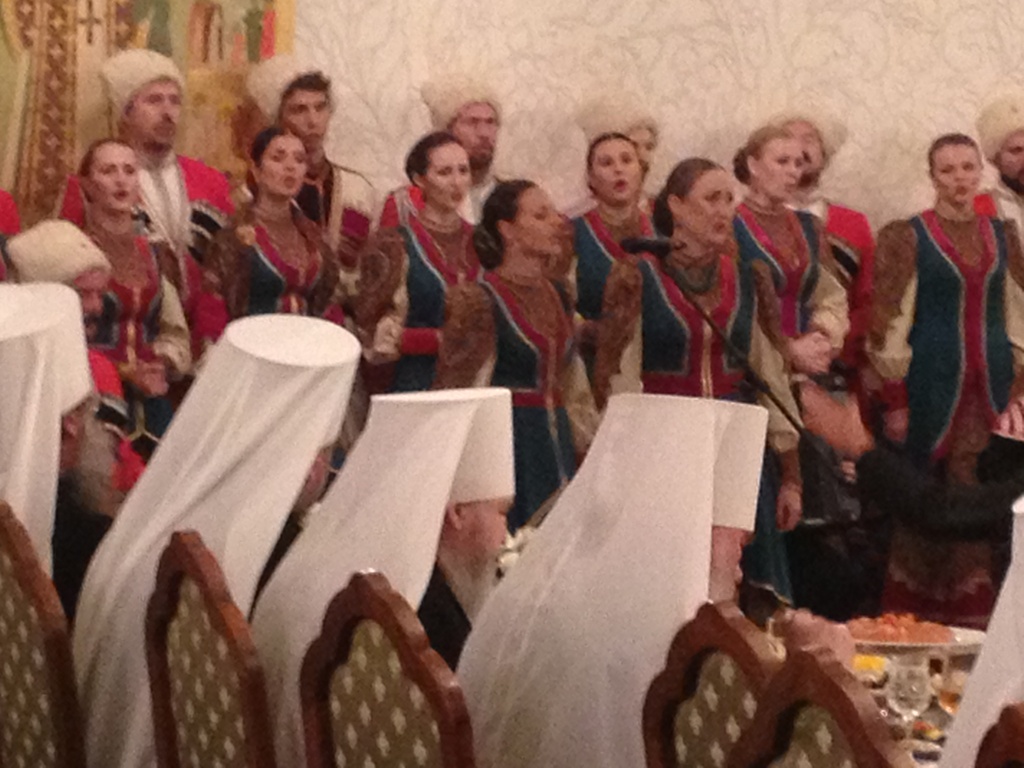 After the Liturgy in the hall below we had a celebratory lunch with greetings from each of the delegations. His Beatitude was the last to bring greetings (representing the youngest autocephalous church). He opened his remarks in French, ended in English and the middle section of the text was read in Russian by Father Leonid Kishkovsky. In between greetings a well-known Cossack choir sang national songs of Russia, Ukraine and Belarus.
Late in the afternoon Metropolitan Tikhon was interviewed for an hour by the editor of the Journal of the Moscow Patriarchate, Sergei Chapnin. He was interested in the missionary heritage of Saint Tikhon in the OCA, his influence (and that of the 1917-18 All Russian Sobor) on the structure of our church life. He asked about the inheritance of Father Alexander Schmemann, especially concerning confession and communion (the journal recently republished the 1972 OCA synodal document on this subject, which resulted in a lively discussion.) Chapnin asked too about the role of bishops, since many more have been appointed in the Russian Church. The aim is too have smaller diocese where the bishops can get to know their priests and flock. On this point Metropolitan Tikhon noted that "The bishop can't be a good administrator unless he is also a good father and pastor. The people have to recognize and hear the voice of the pastor in order to follow."
This morning we will visit a busy downtown hospital run by the Church. His Beatitude will then accompany Patriarch Kirill and the other heads of delegations to the Kremlin for a meeting with President Vladimir Putin, followed by supper in the Patriarch's residence.
A photo gallery can be viewed on the OCA web site and Facebook page.