American Independence Day
Something is missing.
If you look around at Orthodox Christianity in North America you will see a lot of inspiring examples of people, parishes, dioceses, projects, ministries, seminaries, monasteries, camps, all in their own way bearing witness to the light of Christ as we in the Orthodox Church have come to know Him. There is some remarkable Christian work going on out there.
To give just one example, consider FOCUS North America. The other day I received their annual report and was amazed at what has been accomplished over the past year. 51,024 hot meals served. 562 people trained/employed. 128,030 articles of clothing distributed. 6000 volunteers. 408 people given shelter and housing support.
Pan-Orthodox ministry is being encouraged from the top down, as the sixty-five bishops from across the jurisdictions meet and work together in the Assembly of Bishops.
All of this is good, even excellent. So what's missing? What is missing is a clear, bold articulated vision of a united Orthodox Church in and for this land. We are called not just to work together, but to proclaim unequivocally that our aim as Orthodox Christians in this country is and ought to be an autocephalous, united Orthodox Church that is here to stay and serve all the peoples of this continent. And that is what the Orthodox Church in America has stood for from its inception.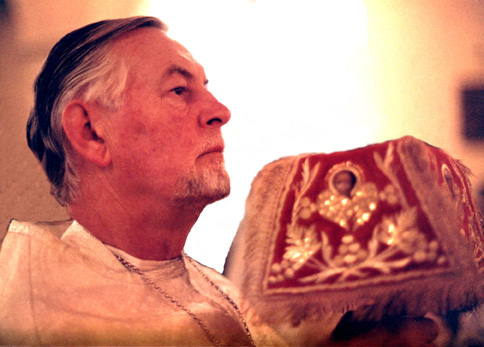 In 1965, Fr Alexander Schmemann wrote convincingly about what has prevented a better Orthodox witness.
… "America", as every other nation, world, culture, society, is a great search and a great confusion, a great hope and a great tragedy, a thirst and a hunger. And, as every' other nation or culture, it desperately needs Truth and Redemption. This means—and I write these words knowing how foolish they sound—that it needs Orthodoxy. If only Orthodoxy is what we believe and confess it to be, all men need it whether they know it or not, or else our confession and the very word Orthodoxy mean nothing.

And if my words sound as an impossible foolishness, it is only because of us, Orthodox. It is our betrayal of Orthodoxy, our reduction of it to our own petty and selfish "national identities," "cultural values," "parochial interests" that make it look like another "denomination" with limited scope and doubtful relevance. It is looking at us, Orthodox, that America cannot see Orthodoxy and discern any Truth and Redemption. And yet it is clear to every one who wants to see that there are today around us thousands of ears ready to listen, thousands of hearts ready to open themselves-not to us, not to our human words and human explanations, not to the "splendors" of Byzantium or Russia, but to that alone which makes Orthodoxy, which transcends all cultures, all ages, all societies, and which makes us sing at the end of each Liturgy: "We have seen the true Light, we have received the heavenly Spirit, we have found the true Faith…" And if only we could understand this and take it to our hearts and our will, day after day, there would be no problem of Orthodoxy, but only a mission of Orthodoxy in America.
That was almost fifty years ago. It's time that we say this out loud again: our vision is for a united Orthodox Church that lays aside all other ties that bind in order to proclaim in a manner accessible to all the Truth and Redemption of Christ as we have encountered Him in the Orthodox Church.
* * *
For an excellent collection of articles—or rather testimonies—about the OCA's vision for today, see the latest edition of Wonder: "Who are we? A Vision of the OCA in the 21st century"
I will be on vacation starting later this week. The "Chancellor's Diary" will resume after July 20th, when I will be joining His Beatitude and Bishop Alexander with a delegation to Russia, Ukraine and Belarus at the invitation of Patriarch Kirill of Moscow to celebrate the 1025th anniversary of the Baptism of Rus'.