Psalm 116
I love the Lord, because He has heard
 my voice and my supplications.
Because He inclined His ear to me,
 therefore I will call on Him as long as I live.
The snares of death encompassed me;
 the pangs of Sheol laid hold on me;
I suffered distress and anguish; then I called upon the name of the Lord.

I kept my faith, even when I said, "I am greatly afflicted!"
What shall I render to the Lord
 for all the things He has given me?
I will lift up the cup of salvation and call on the name of the Lord.
I will pay my vows to the Lord in the presence of all His people.

—Psalm 116:1-4, 10-14 (Palm Sunday, 1st and 2nd Antiphons)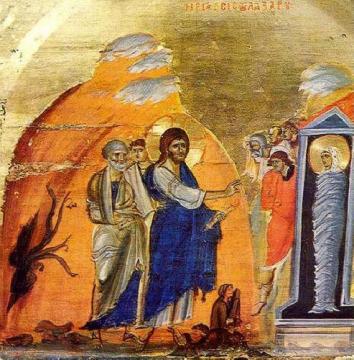 This is a psalm I can't hear without also hearing the melodies of Palm Sunday and all the echos from the raising of Lazarus—dead four days—and Christ's entrance into Holy Week. Some modern titles given to the psalm label it as a prayer of thanksgiving for "recovery from illness" (RSV), or better "deliverance from death" (NKJV). But it's striking to me that God's deliverance was neither instant nor easy. The psalmist, like Lazarus and the Lord, had to go through bitter experiences:
he "suffered distress and anguish"
he was "brought low" and "was close to death"
he was "greatly afflicted"
he lost all his hope in human help ("men are all a vain hope")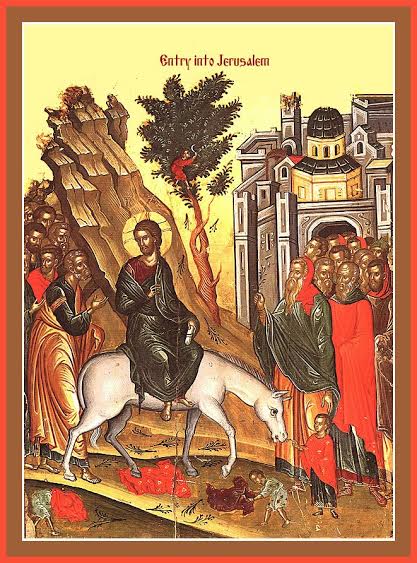 The psalm is also one of the prayers before communion and is regularly used as a communion hymn throughout the year. This points to the Eucharist, "receiving the cup of salvation," as the way of giving thanks to the Lord and testifying to our gratitude "in the presence of all His people." Verse 15 is used prominently on many feasts of the saints and at the Dormition of the Mother of God: "Precious in the sight of the Lord is the death of His saints."

Here is the choir of Saint Mary's Cathedral in Minneapolis singing the First Antiphon of Palm Sunday on April 16th this year: www.youtube.com/watch?v=xfeBY2jAbio
* * *
The numbering of the psalm is confusing. Modern translations based on the Hebrew text have Psalm 116 as a single prayer. The Septuagint, the ancient Greek translation used in the Orthodox liturgical tradition, divides this in two as Psalm 114 (116:1-9) and 115 (116:10-19).
Father David and Matushka Rozanne Rucker at the Chancery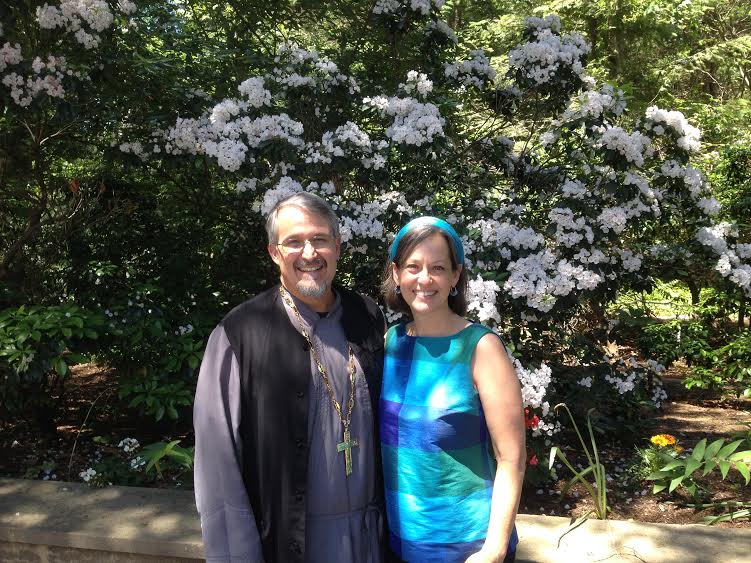 From Sunday evening until yesterday morning Father David and Matushka Rozanne Rucker were visiting the chancery. They are mission specialists (from the OCA) working for the Orthodox Christian Mission Center (OCMC) in St Augustine, Florida and currently dividing their time between Guatemala (training catechists and clergy) and the USA (serving seminaries and parishes). To learn more about their work and how you can support them (they must raise all their own funds), see their entry on the OCMC website: www.ocmc.org/about/view_missionary.aspx?MissionaryId=34.