Mystical Christianity
I once had occasion to speak with a man and his wife, both Protestant missionaries, who had spent a year training Russian Protestants in Moscow. I met the husband first, and then later his wife, and was struck by how differently they experienced the Orthodox Church there. He told me, with a dismissive tone, "It's all mysticism." Later when I asked for her impressions, she said with a glowing voice, "It's so mystical."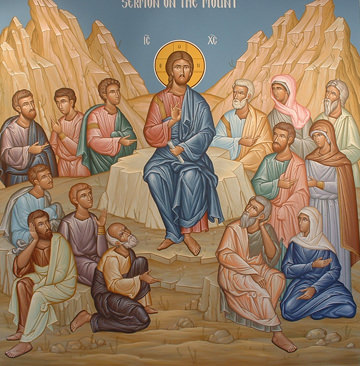 Obviously I appreciated that the woman immediately grasped something of the inner being of the Church in her brief encounter. But if the Orthodox Church is truly mystical, that should not be interpreted as fuzzy and uncertain. Orthodoxy is mystical and Spirit-filled, but also remarkably concrete. So here, in these immediate days after Pentecost, the Church gives us a very clear picture of how to live out this mystical life: read our Lord's Sermon on the Mount and put it into practice. Follow Him and the His teaching. You will find it exceedingly difficult and will then also know what it means to pray for the Spirit's help.
Do we thirst for a mystical life? On Pentecost we heard, "If anyone thirsts, let him come to Me and drink. He who believes in Me, as the Scripture has said, out of his heart will flow rivers of living water (John 7:37-38).
Do we want mystical illumination? Again, on Pentecost we heard what this means for Christians. "Then Jesus spoke to them again, saying, 'I am the light of the world. He who follows Me shall not walk in darkness, but have the light of life'" (John 8:12)
We have these promises, now it's for us to test them out. There's no other way to learn, if we honestly desire to be proficient mystical Christians. As Aristotle said, "If you want to learn to play the flute, you have to play the flute."
Update
Busy day of meetings ahead. Metropolitan Tikhon is back from celebrating Pentecost in San Francisco. I'm back from Ottawa and packing up the house. Fr. Leonid Kishkovsky and Fr. Chad Hatfield will be in today for a conversation about dialogue with Anglicans. Updates on misconduct policies, procedures and cases. There will be other discussions tomorrow with Treasurer Melanie Ringa about draft budget proposals for 2014. All of this reminds me again that the mystical life of the Church is lived out in very concrete ways. May God help us all to infuse those to-do lists with His Spirit.