Trampling Death
… they taught the people and preached in Jesus the resurrection from the dead. (Acts 4:2)
Cemeteries in many parts of the Orthodox world will be filled today with priests and people visiting graves, singing "Christ is Risen" and eating festal meals among the tombstones.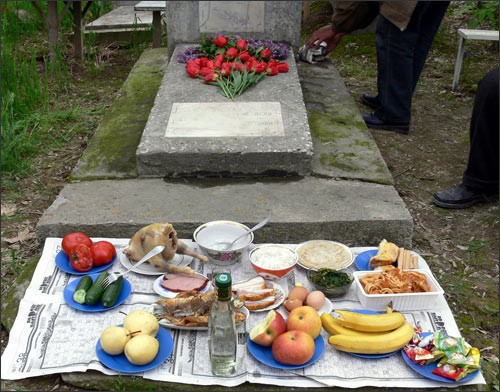 In North America this is often done instead on Saint Thomas Sunday but, in either case, there is no more powerful witness to faith in the resurrection. Whatever else we believe about Christianity, prayer and spiritual life, the heart of our faith is that "God so loved the world" that He entered it, suffered it, died in it and through His death made possible for all a path to the resurrection from the dead. "O death where is thy sting, O hell where is thy victory?" In many and various ways God gives us a taste of His resurrection life even now, and we look forward to more than can be imagined in communion with Him and with all those whom we love who have departed this life. As we say after holy communion, "Grant that we may more perfectly partake of Thee in the never-ending Day of Thy Kingdom."
If you can't get to the cemetery today, say a special prayer for your departed.
Christ is risen from the dead, trampling down death by death, and upon those in the tombs bestowing life.
Orthodox Missionaries in Guatemala
Father David and Matushka Rozanne Rucker have been mission specialists for many years with the Orthodox Christian Mission Center (OCMC), which has missionaries around the world under the umbrella of the Assembly of Bishops. Guatemala has seen an explosive growth of Orthodox Christianity among thousands of indigenous Mayans, so now the Ruckers will be going there to live, to train catechists and clergy and to help establish the first Orthodox seminary.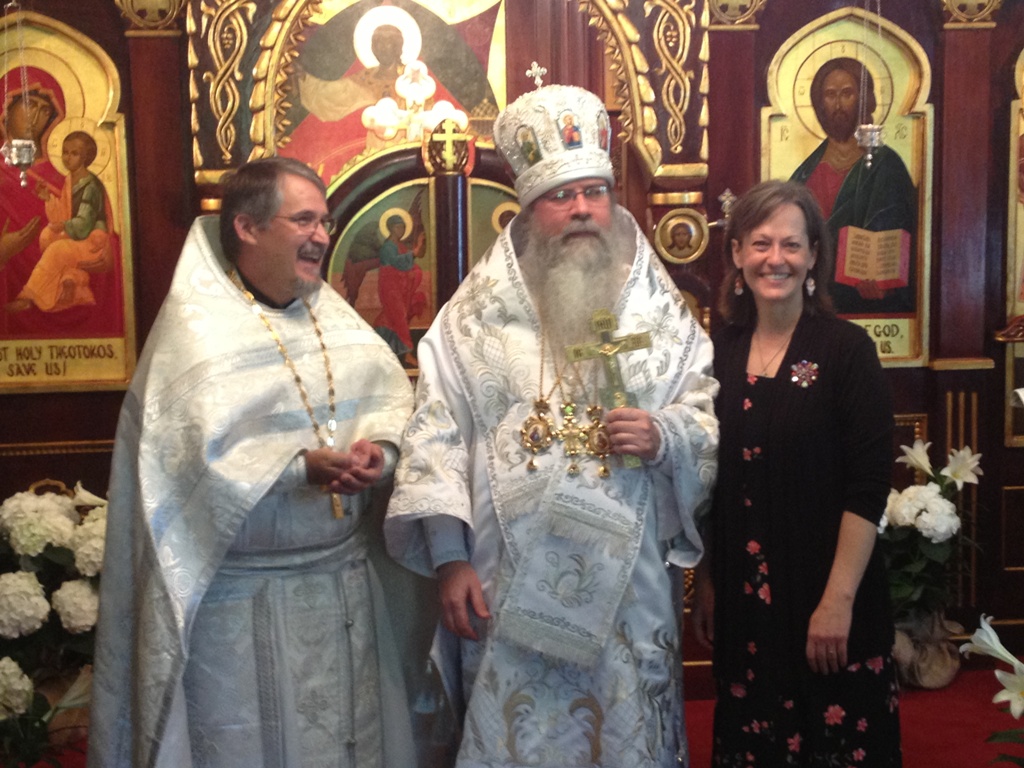 While Father David spends much of his life on the road, he is a priest of the Orthodox Church in America and is formally attached to Saint Sergius Chapel here in Syosset. Last weekend the Ruckers were here to meet with Metropolitan Tikhon. Father David served the Divine Liturgy with His Beatitude and was awarded a gold cross for his years of service.
You need to know that OCMC missionaries have to raise their own funds for their work. Incredibly, there are scores of faithful Orthodox missionaries like the Ruckers who take up this life and do this willingly and joyfully. Please consider helping them. You can learn more about Father David and Matushka Rozanne and donate through the Orthodox Christian Missions Center here.