Psalm 100
Serve the Lord with gladness!
 Come into his presence with singing!
(Psalm 100:2)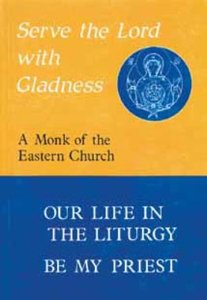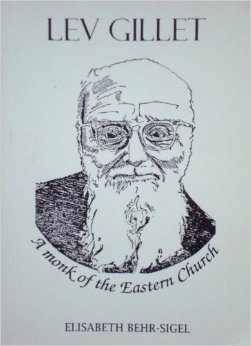 Serve the Lord with Gladness is the title of the short book that brings together two of Father Lev Gillet's meditations on the Liturgy and the priesthood. Father Lev Gillet (1893-1980) was raised in France as a Roman Catholic, joined the Benedictine order then an Eastern Catholic priest (and assistant to Metropolitan Andrey Sheptytsky) and in 1928 was received as a priest into the Orthodox Church by Metropolitan Evlogy in Paris. He went on to write many books under the pseudonym, "A Monk of the Eastern Church." He served the Church in a wide variety of ways, and was especially dedicated to promoting inter-Christian and inter-religious understanding. Among other roles he was chaplain of the Fellowship of Saint Alban and Saint Sergius. The late Elisabeth Behr-Sigel was a close confidante and correspondent and wrote an excellent biography of Father Lev (the Fellowship published an English translation in 1999).
In speaking of the service of priesthood Father Lev emphasizes that there is only one priest—our Lord Jesus Christ—who offered Himself once for all people, for all creation and for all time. Although the Lord sets apart some to be His ministers—bishops, presbyters (only much later termed "priests") and deacons, all the baptized—men and women—are ordained to service as members of Christ's universal priesthood. As the Apostle Peter said, "like living stones be yourselves built into a spiritual house, to be a holy priesthood, to offer spiritual sacrifices acceptable to God through Jesus Christ….You are a chosen race, a royal priesthood, a holy nation, God's own people, that you may declare the wonderful deeds of him who called you out of darkness into his marvelous light" (1 Pet 2:5,9).
How then should we all live as priests? By being living sacrifices, thinking of ourselves as the bread that is broken and the wine that is poured out at the Liturgy, "on behalf of all and for all."
The sacrifice of Christ should find its most concrete expression in the innumerable acts of sacrifice that mark the life of the priest. The priest should become one who is offered, just as he is the one who offers, in the image of Christ who is both priest and sacrifice. The priest should envision his own life as the wine that the hands of Jesus pour forth and offer as drink. Thereby his own destiny becomes one with the Body and Blood of Jesus Christ. (Serve the Lord with Gladness, tr. John Breck, SVS Press: 1990, 107).
Update
Today His Beatitude will serve the Divine Liturgy for the feast of Mid-Pentecost in Saint Sergius Chapel.
Yesterday, he and Father Leonid Kishkovsky went to Saint Vartan's Armenian Orthodox Cathedral in New York City to meet the Catholicos, Karekin II (visiting from Etchmiadzin, Armenia), and for prayers and a reception in honor of the new Syrian Orthodox Patriarch, Mor Ignatius Aphrem II.