Apostolic Labor
As Jesus passed on from there, He saw a man named Matthew sitting at the tax office. And He said to him, "Follow Me." So he arose and followed Him. Now it happened, as Jesus sat at the table in the house, that behold, many tax collectors and sinners came and sat down with Him and His disciples.(Matt 9:9-10)
I am always struck by the fact that "sinners," those publicly identified by religious people as "bad," enjoyed being in the company of Jesus. Not that he joined them in whatever sins they favored, but there was something about Him that didn't automatically push them away. On the contrary, they were attracted to Him. There was a goodness, a welcoming spirit, even an edgy quality that made them want to be with Him. Even if they knew he lived differently, they didn't feel judged. Or rather, perhaps they did feel judged, but not in such a way that repelled them, because in Jesus they sensed authenticity and love. And maybe they got the sense too that in spite of who they were, He liked them, that He may have preferred their company to that of the religious and righteous. Of course that is precisely why the religious types murmured about Jesus.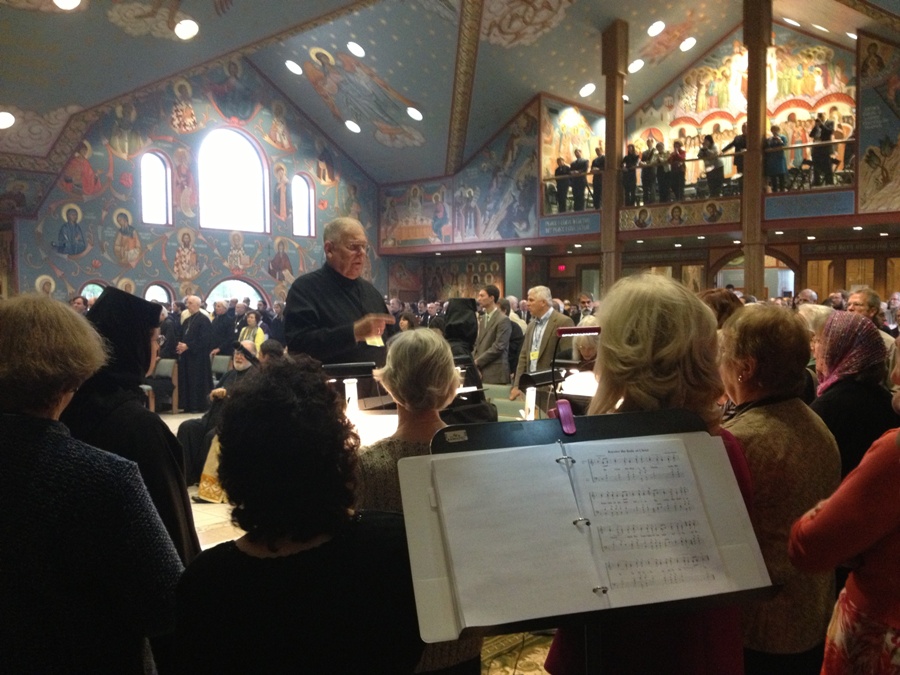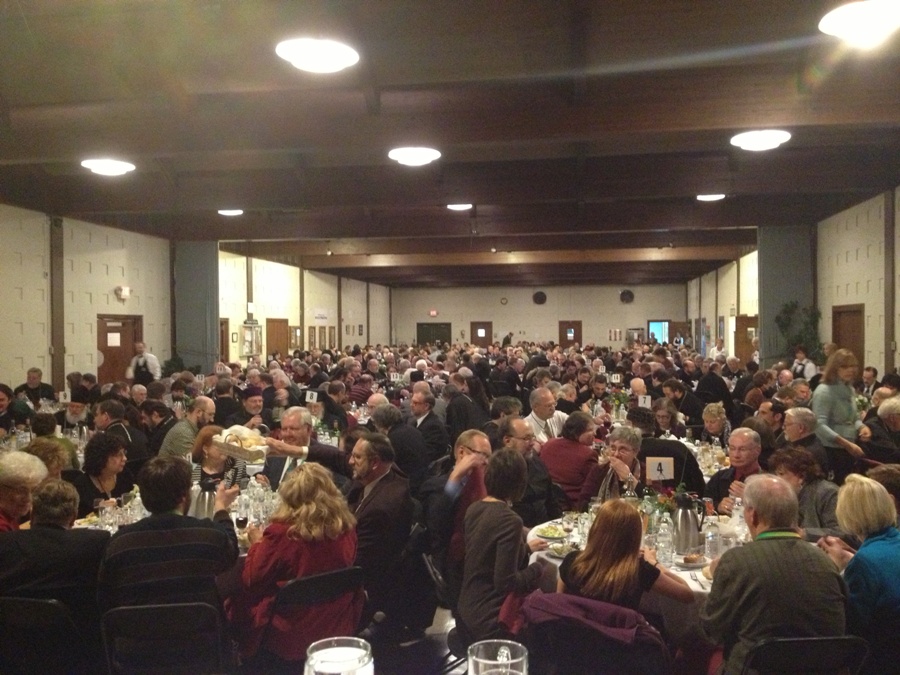 It's a narrow balance-beam we Christian religious folk have to walk, especially we Orthodox. We rightly immerse ourselves in liturgy, and how good it is when we pray and sing together, being pulled out of ourselves and worshipping God in unity of spirit, as I sensed we did this week at the All-American Council in Parma.
But then comes the apostolic work, bringing the love and presence of God to others whose first instincts may not be religious at all. It's not easy to keep the balance, and we need to be encouraged constantly through the example of our shepherds—our new first shepherd, Metropolitan Tikhon, all the bishops, our clergy, our monks and nuns and each other. As St Paul says today,
Therefore, comfort each other and edify one another, just as you also are doing. And we urge you, brethren, to recognize those who labor among you, and are over you in the Lord and admonish you, and to esteem them very highly in love for their work's sake. Be at peace among yourselves. (1 Thes 5:11-13)
"Be at peace among yourselves." Timely advice for rekindling our apostolic labor.
Metropolitan Tikhon Comes to Chancery Today
Metropolitan Tikhon will drive to Syosset this morning to meet with Bishop Michael of New York (who was administrator of the OCA since last July), the officers and Chancery staff for the first time as Primate.
After spending Wednesday and Thursday in the Diocese of Eastern Pennsylvania working on the transition—and reassuring the clergy and faithful of his former diocese, who will be sad at his departure, however good his new role might be for the Orthodox Church in America—his own new apostolic labors will become a lot more concrete as we look at his schedule for the next few months, plan for office and housing arrangements, keys etc. Already there are phone calls and emails and letters coming in, not only congratulations from Orthodox churches around the world, and from faithful across the OCA, but also requests for clergy transfers and other clergy matters (like church courts and appeals) that were held in abeyance until the election of a new metropolitan.
On Sunday he will be greeted at Saint Nicholas Cathedral for his first primatial Liturgy, accompanied by Archbishop Nikon of Boston and Bishop Mark of Baltimore. Protodeacon Joseph Matusiak will serve and I'll be there as well with Father John Perich (administrator) and the clergy of the Cathedral.