Election Day
"Who then is that faithful and wise steward, whom his master will make ruler over his household, to give them their portion of food in due season?"(Luke 12:42)
While Americans go to the polls today to elect a president, in the Orthodox Church in America we are also looking forward to next Tuesday's Council in Parma, Ohio and the election of a new metropolitan. We all hope and pray that with God's help and our support, he will be a "faithful and wise steward" to oversee the household of the OCA.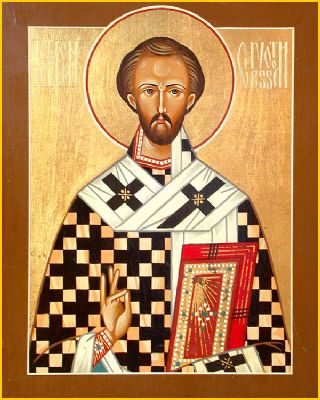 You may have noticed that excerpts from Saint John Chrysostom's On the Priesthood are posted to help us all reflect and prepare for the election of the metropolitan. I am amazed at the relevance of these 4th century words and urge you to take some quiet time to read them. Here are just a couple of passages I found especially insightful as we consider the election of a metropolitan. Note that when St John speaks of the priesthood he has in mind particularly the bishops.
We on our part have besmirched [the office of bishop] with stain upon stain by entrusting it to commonplace men. And they eagerly accept what is offered to them, without first examining their own souls or considering the gravity of the matter. And when they come to exercise this ministry, their eyes are blinded with inexperience, and they fill the congregations entrusted to them with a thousand and one troubles.

Tell me, where do you think all the disorders in the churches originate? I think their only origin is in the careless and random way in which the prelates are chosen and appointed.

For the head ought to be the strongest member in order to be able to control the evil exhalations which proceed from the rest of the body, and regulate them properly. But when the head happens to be weak itself, it cannot ward off those infectious attacks, and becomes weaker than it naturally is, and destroys the rest of the body along with itself. (III.7-10)

…[So] the calm sea of the Church, when evil men are accepted, is filled with surf and wreckage.

Consider then what qualities a man needs if he is to withstand such a tempest, and to deal with it successfully: He must be dignified yet modest, impressive yet kindly, masterful yet approachable, impartial yet courteous, humble but not servile, vehement yet gentle, in order that he may be able calmly to resist all these dangers and to promote a suitable man with full authority, even though everyone opposes him, and reject an unsuitable man with equal authority, even though everyone favors him. One thing alone he must consider: the edification of the Church. He must do nothing out of hostility or favor. (III.15)
Update
We all have the experience of life overtaking the normal course of our everyday routines. I don't need to explain that to anyone affected by Hurricane Sandy. Today I am writing this on the plane from Ottawa to LaGuardia airport, where my car is still sitting when I couldn't get back from Chicago after the storm. Power is back on at the Chancery but not in Huntington where I'm living, so I was going to keep working from Ottawa and wait till later this week to return and get things in order before going out to Parma next Sunday for the Diocese of the Midwest Assembly (Monday) and the All-American Council (Tuesday). But my mother Alla (93) was hospitalized a few days ago and I heard yesterday that she had a stroke and has taken a turn for the worse. So from the airport I will go straight to the hospital in South Jersey. So elections and AAC and crises of one kind and another will have to take a back seat for a bit. That's more of life interfering and reminding me of what's most important.