Psalm 28
O Lord, save Thy people and bless Thine inheritance!

To Thee, O Lord, I call;
 my rock, be not deaf to me,
 lest, if Thou be silent to me,
 I become like those who go down to the Pit.
Hear the voice of my supplication,
 as I cry to Thee for help, as I lift up my hands
 towards Thy most holy sanctuary. (Psalm 28: 9,1-2)
This psalm is the inspiration for the famous Orthodox hymn, "O Lord, save Thy people," the troparion of the Cross.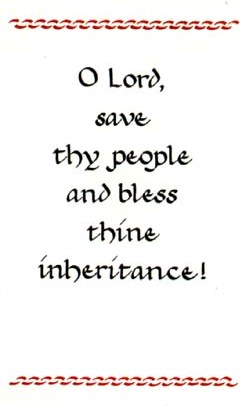 O Lord, save Thy people,
and bless Thine inheritance!
Grant victory to the Orthodox Christians
over their adversaries,
and by virtue of Thy cross,
preserve Thy habitation.
This was the "national anthem" of Byzantium (and then Russia) and originally petitioned God to grant the Emperor victory in war "over the barbarians." Tchaikovsky used it as background to his 1812 Overture, recalling Russia's victory over Napoleon. Today the hymn is often spiritualized and "adversaries" are understood as the passions, or sinful, wicked and demonic forces. But in places where Christians are actively persecuted the adversaries are still seen in very concrete and personal terms. As one Middle Eastern priest once told me, "We have a real King and we have real enemies."
On the Feast of the Elevation of the Cross (September 14) this troparion is sung repeatedly as the Third Antiphon, alternating with verses from Psalm 99 (98).
The Lord reigns; let the people tremble!
He sits enthroned upon the Cherubim; let the earth quake!
The Lord is great in Zion; he is exalted over all the peoples!
Bow down in worship to the Lord in His holy court.
Extol the Lord our God; worship at His footstool, for it is holy!
The Hymn of the Cross is about all of us together as the people of God. But our communal prayer is rooted in the personal connection we each have with the Lord. And so this psalm, which ends with "O Lord, save Thy people," begins with a personal cry from the heart, that God will hear my distress and respond in a way that I can sense He is listening.
"O Lord Save Thy People" (Choir of Danilov Monastery, Moscow)"
Metropolitan Philip of Poltava and Mirgorod
Today the Chancery staff will host Metropolitan Philip of Poltava and Mirgorod for lunch and a tour of the Chancery and Archives. He is in the United States representing Metropolitan Volodimir of Kiev (Ukrainian Orthodox Church, Moscow Patriarchate) at the 75th anniversary celebrations for Saint Vladimir's Seminary.