Gathering Together
"How often would I have gathered your children together as a hen gathers her brood under her wings…" (Luke 13:34)
This wistful hope that Jesus had for his people comes in the middle of a devastating indictment of those same people, "who stone the prophets and kill those who are sent to you" (13:34). The church in every time and place has to discern who is a prophet from who is a deceiver, and it's not always clear. Satan's chief aim is to sow seeds of confusion, so that even good folks are led astray. Such was the case with those who persecuted Saint Nectarios of Pentapolis, who for years was vilified for misconduct he never committed. But just as often it goes the other way, the sinner is taken for a saint. We have to do the best we can with the information and insight we have to make as true a discernment of truth from error as we can while admitting, as Saint Paul said, "Our knowledge is imperfect and our prophecy is imperfect" (1 Cor 13:9). The only way to avoid the mistakes of imperfection is to never do anything at all. American evangelist D.L. Moody was once criticized for one of his projects and replied, "I prefer my imperfect way of doing it to your perfect way of not doing it." If we love the church, if we believe in its incarnate, fleshly life in this world, then we have to risk getting it wrong and do the best we can to discern the way forward and act.
When we gather together at the All-American Council—in person or through our delegates and in prayer—we will each come with our own convictions and imperfections. But what I hope will unite us is our love of Christ and His Church, and our desire to be gathered to him as brothers and sisters in the Lord. Siblings don't always get along, but one of the miracles for which we can pray might be that the unity we have in the bread and cup of the Eucharist that day will extend to the rest of the Council as well.
Unite us all to one another who become partakers of the One Bread and Cup in the communion of the Holy Spirit…May we find mercy and grace with all the saints who through the ages have been well-pleasing to Thee…(Liturgy of St Basil)
Travelling to the Council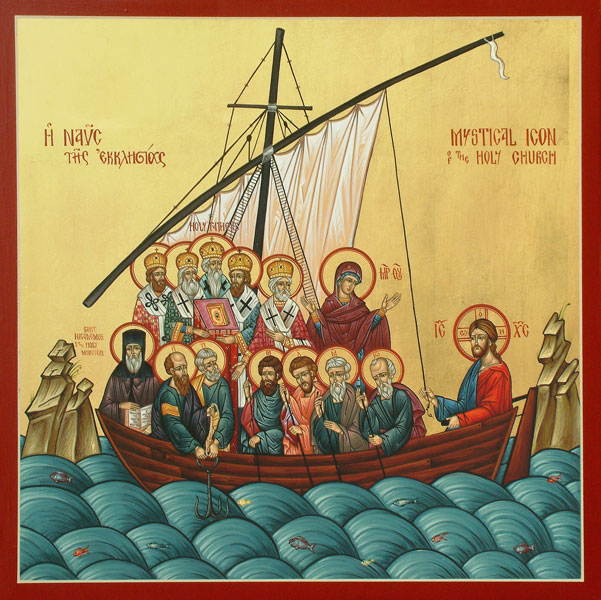 After a morning at the Chancery (again with power, at least for now) I'll drive to south Jersey to see my much-improved mother again in the hospital before returning Saturday evening, serving Liturgy in Saint Sergius Chapel on Sunday and then flying with Father Eric Tosi to Cleveland. Sunday evening and Monday I'll be with the Diocese of the Midwest for their Diocesan Council meeting and Assembly (Archbishop Nikon will preside, together with the chancellor, Father John Zdinak).
Almost seven-hundred people have registered for the council. Bishops, clergy, lay delegates and observers will be travelling from Alaska, Mexico, Canada and across the United States to participate in the election of a new metropolitan to lead the Orthodox Church in America. He will have as many challenges in front of him as we have broken-down trees at the Chancery. May God protect him, whoever he may be, and may our Lord stir up our desire and will to help him.
I don't think anyone travelling to the Council will be coming by boat, but for our ship of the church, this traveler's prayer for journeys by sea seems just right.
O Master, Lord Jesus Christ our God, who walked upon the waters as if they were dry land, and travelled in a ship with Your apostles, and rebuked the stormy wind, and commanded the waves to be still: we beg You, O Savior, to sail with your servants and calm every hostile wind and tempest. Be their pilot and a haven of peace and salvation. As you saved Peter from drowning, so with Your almighty right hand deliver Your servants from all assaults of visible and invisible enemies, and from all calamity, distress and fear. Grant that they may return to their homes in health and happiness, having successfully accomplished their purpose. Bless them with the riches of Your inexhaustible grace, and preserve this ship from harm. For You are the Savior, the deliverer and the rich giver of all good things, both in this world and beyond this world, and to You we send up glory, together with Your Father who has no beginning and Your most holy, good and life-giving Spirit, now and ever and unto ages of ages. Amen.