Psalm 18
I love Thee O Lord my strength;
the Lord is my firm foundation [rock], my refuge [fortress] and my deliverer.
—Psalm 18:1
Psalm 18 perfectly illustrates how the psalms are woven into Orthodox liturgical life.
This first verse, for example, is normally said quietly by the priest as he kisses the holy gifts before the singing of the Creed at the Divine Liturgy (in the Antiochian Church when a bishop is serving the people sing this verse.)
Psalm 18 is read at the First Royal Hour on the Eve of Theophany.
18:9, 13 He bowed the heavens, and came down; 
thick darkness was under his feet. The Lord also thundered in the heavens,
 and the Most High uttered his voice,
hailstones and coals of fire. (Nativity Matins canon, Ode 1; also in prayer at vespers)
18:32-33 [Blessed is] God who girded me with strength,
 and made my way safe. He made my feet like hinds' feet,
and set me secure on the heights. (Vesting prayer at the Divine Liturgy for priest and bishop as belt is put on)
18: 47, 50 God gave vengeance
to me and subdued peoples under me; Great triumphs he gives to his king,
 and shows steadfast love to his anointed,
 to David and his descendants for ever. (Alleluia verses, Sunday tone 1)
18:27-29. I'm not aware of any particular liturgical connection, but I love these verses as a prayer for humility, guidance and courage.
For thou dost deliver a humble people;
but the haughty eyes thou dost bring down. Yea, thou dost light my lamp; the Lord my God lightens my darkness. Yea, by thee I can crush a troop;
and by my God I can leap over a wall.
The Septuagint for that last verse is more defensive and reads "by Thee I am delivered from a band of robbers," but I appreciate the muscular and military Hebrew original.
St Tikhon's Seminary 75th Anniversary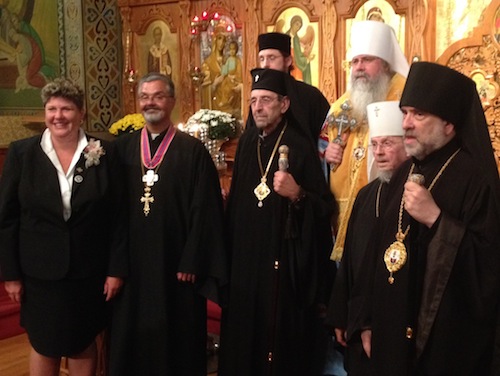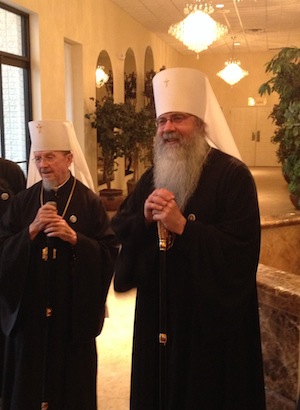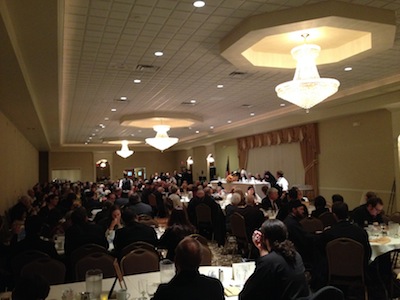 I'm at Saint Tikhon's Seminary for the meeting of the STS Board. Yesterday was a wonderful day of events to mark the 75th anniversary of the school, including the blessing of a new flagpole and the raising of a US flag (flown over the US Capitol) in honor of STS graduates who served in the military, a memorial service for all departed STS faculty, students, benefactors and staff, and a prayer service for the formal installation of the new dean, Father Steven Voytovich. The evening grand banquet was attended by many alumni and supporters, and it was noteworthy that Saint Vladimir's Seminary was well represented by a table of board members, faculty and staff. Another much appreciated sign of how good it is when brothers dwell in unity was the presence of two representatives from the Greek Orthodox Archdiocese of America. Father George Alexson was the toastmaster for the evening, and besides being a retired and much respected priest of the GOA, graduated from Saint Tikhon's Seminary in 1969 and is a living bridge between these two ecclesiastical spheres. Archimandrite Nathanael (Symeonides) is responsible for inter-Orthodox, ecumenical and inter-faith matters and brought the greetings of His Eminence, Archbishop Demetrios.