"Lord, teach us to pray…" (Luke 11:1)
Each of the evangelists gives us his own underlining of the teaching of Jesus, reflecting how they heard him and received his words. In Matthew, for example, the Lord's Prayer (Matt 6:9-13) is immediately followed by a teaching on forgiveness, to emphasize that "forgive us our trespasses as we forgive those who trespass against us" are the heart of the prayer. "For if you forgive others their trespasses, your heavenly Father will also forgive you" (Matt 6:14).
The evangelist Luke, however, gives this prayer in shorter form and then right afterward adds the parable of the man who late at night, after everyone is asleep, keeps banging on his friend's door to wake him up and lend him some loaves bread to feed a another friend whose just arrived at his door after a long journey. "I say to you, though he will not rise and give to him because he is his friend, yet because of his persistence he will rise and give him as many as he needs.
So I say to you, ask, and it will be given to you; seek, and you will find; knock, and it will be opened to you" (Luke 11: 9-10). You can be especially bold in asking when you're asking to help others.
We don't have to look far today to see intercessory prayer in action. Saint Paul begins his letter to the Colossians by telling them "I do not cease to pray for you," and then he says what precisely it is he's praying for (Col 1:7-11.)
"that you may be filled with the knowledge of His will in all wisdom and spiritual understanding"
"that you may walk worthy of the Lord, fully pleasing Him, being fruitful in every good work and increasing in the knowledge of God"
"that you may be strengthened with all might, according to His glorious power, for all patience and longsuffering with joy."
Lord, teach us your will and fill us with your wisdom and strength so that we may please you in all we do and serve with patience and joy in good times and in bad.
Saint Tikhon's Monastery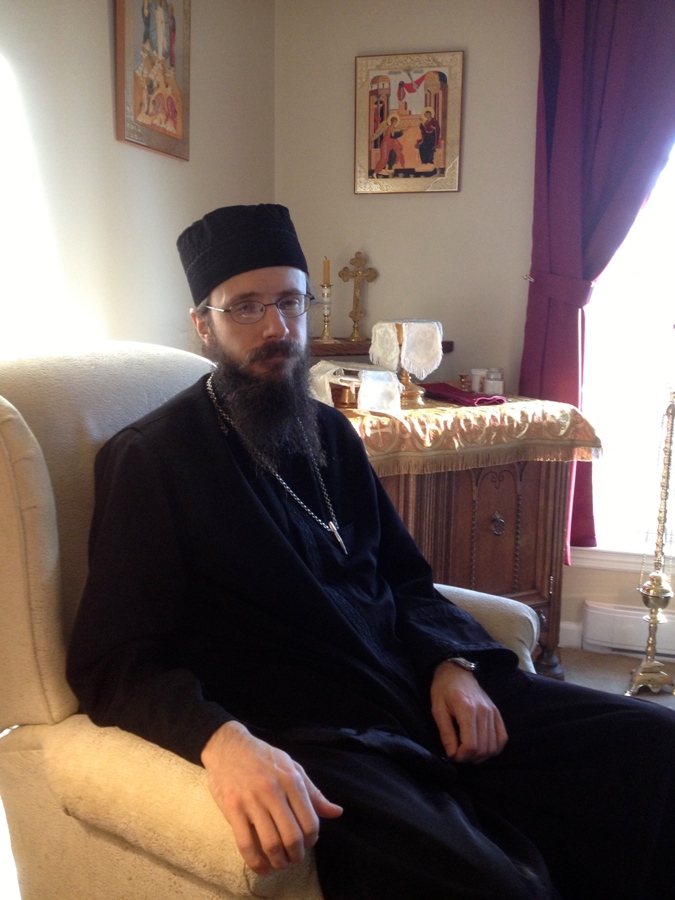 Speaking of prayer, I was visiting Saint Tikhon's Monastery in South Canaan, PA yesterday on various errands and had the opportunity after the early morning Divine Liturgy to sit down with the Abbot, Father Sergius. Among other things, I was checking on the burial plots I reserved years ago (and still have to pay for!).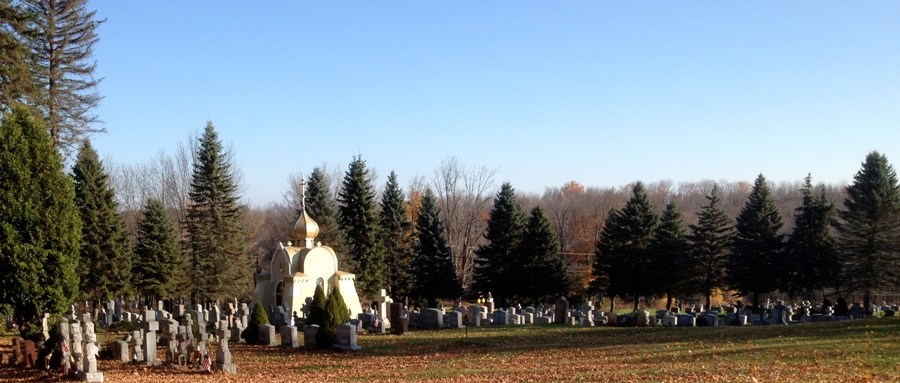 For monks, a monastery is a desert, a place of inner spiritual warfare. Prolonged years of outward peace can never eclipse those inner struggles, but only magnifies them so they become clearer. For visitors, on the other hand, curiously, a monastery is an oasis in the desert, a refuge of rest and recollection that reminds us what life is all about. That's how I experienced it. A warm welcome from Brother Stephen, a fresh and clean guest room Sunday night when I arrived tired after a long drive. An unexpected prosphora after Liturgy, from Father Nicodemus, with prayers for my family (we knew each other from Holy Protection Cathedral in the early 1980s). Walking through the cemetery, remembering departed friends and stopping by the grave of my sister, Alla. It was a beautiful morning, blue sky, a touch of autumn chill, fall-colored trees.
To learn more about the monastery and making a visit, see their website.