Children of God
I am perplexed by the amount of sniping, arguing and fighting that goes on in churches. I have been on the giving and receiving end of church strife more than once, and also in the middle as a neutral mediator, and seen it devastate parishes, diocese and whole churches for years at a time—even centuries. Priests, people and families get torn up, and all the more depending on how much sacrifice they've put into their church life. This experience led me to study the subject when I did a Doctor of Ministry project on "The Language of Enemies" some years ago at St Vladimir's Seminary. I learned quite a bit about deep-rooted conflict but I am still left shaking my head when I encounter it and/or am party to it (part of the occupational hazards of being chancellor). Like Rodney King, I want to say, "Why can't we all just get along?"
Today's readings remind me that we are all—yes all, every last one of us on this planet—children of God. That means we are all brothers and sisters. He loves us all as our heavenly Father. He is willing to sacrifice Himself for us and is willing to share His life, His Holy Spirit, with anyone who asks him. We should be able to understand something of the heart of God and His parental love, because however poorly we behave as human beings, we still usually retain a sense of love for our children and want to give them "good gifts." And we know that if there is anything that grieves parents more than anything else it is when they see their children divided, fighting and filled with mistrust and hate for each other.
I am struck by how often St Paul speaks—as he does today—of God's work in the world as reconciliation. We in turn, as Christians, as His children, share in His ministry of reconciliation. "In Christ, God was reconciling the world to himself, not counting their trespasses against them, and entrusting to us the message of reconciliation. So we are ambassadors for Christ, God making his appeal through us" (2 Cor 5:19-20).
We have all kinds of ministries in the OCA, our parishes and our dioceses. But a new one we could surely use is a Department of Reconciliation.
Orthodox Exhibit at Villanova University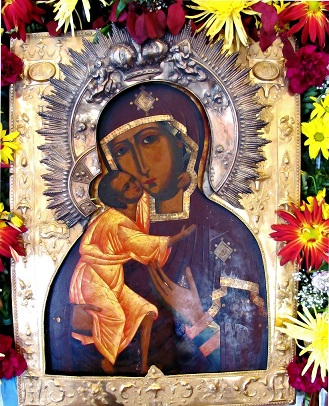 The Saint Tikhon's Seminary Board of Trustees will meet this Friday at Villanova University in connection with the opening of a major exhibit of icons and liturgical items organized by STS board member Father John Perich, who directs the museum of the Orthodox Church of America based at Saint Tikhon's Monastery.
Father John is also Administrator of Saint Nicholas Orthodox Cathedral in Washington, DC and pastor of Saint Herman of Alaska Church in Gradyville, PA.
The seven-week exhibit is part of a larger program of lectures and events that will include presentations by Metropolitan Kallistos (Ware) and Father Justin, the librarian of Saint Catherine's Monastery on Mount Sinai. This weekend Villanova University will award an honorary doctorate to Metropolitan Hilarion (Alfeyev) of Volokalamsk, who serves as Chairman of the Department of External Church Relations and is a permanent member of the Holy Synod of the Patriarchate of Moscow (and is also on the Board of Saint Vladimir's Seminary). He is a noted theologian, church historian, and composer and is known for his work in building inter-church relations between the Orthodox and Roman Catholic Churches.
Villanova University, as a Roman Catholic institution, is sponsoring this program as part of the special ecumenical Year of Faith proclaimed by Pope Benedict XVI, for whom relations with the Orthodox Churches are the top ecumenical priority. The Year of Faith was declared by the Pope to give "renewed energy to the mission of the whole Church to lead men and women out of the desert they often are in and toward the place of life: friendship with Christ who gives us fullness of life."
For more about the exhibit and the program of lectures from now through December see the announcement on the OCA website.
The chancellor is a board member of all the OCA seminaries but on this occasion I will be with the Archbishop Nikon and the Diocese of New England in Salem, Massachusetts for their diocesan assembly (I'm told that Salem is quite the place to be on the weekend before Halloween).