Risking Insecurity
The epistle readings for this week started yesterday with Romans 7:1-13 and continue today with Paul's teaching on the turmoil of inner conflict between sin and goodness. His experience, so often confirmed that he can call it a law, is that there is a perpetual internal war, a curse from which there seemed to be no deliverance. Before every Divine Liturgy one of the first prayers the priest says in preparing the bread and wine is the hymn from Holy Saturday: "By your precious blood You have redeemed us from the curse of the law…" This is a reference to Galatians, where Paul makes the same argument for faith he makes in Romans. "Christ redeemed us from the curse of the law…that in Christ Jesus the blessing of Abraham might come upon the Gentiles, that we might receive the promise of the Spirit through faith" (Gal 3:13, 14). Paul is arguing that faith in Christ delivers us from the weight of this curse and puts us on the path of what it means to be a truly free and flourishing human being.
* * *
In today's gospel Jesus is teaching the apostles about their mission and what awaits them. For whatever inexplicable reason they have been given the gift of faith, and that is what they need to share. "Freely have you received, freely give" (10:8). His disciples will have to risk insecurity and dependence on the support of others who believe in the mission. This is especially difficult in a culture of "rugged individualism." But just as there have always been disciple-missionaries, there have always been disciple-supporters who out of their means gladly give to share in the work of preaching, teaching, healing. And this is the way it should be in the Body of Christ.
Outspoken Saint: St Raphael Hawaweeny (1860-1915)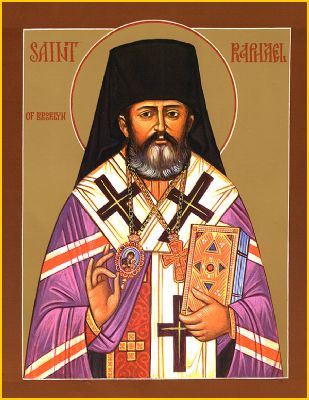 Blogs are one of the new and pervasive features of life in the 21st century. Two of the reasons they exist is because people want to discuss controversial issues and keep their eye on institutions, including churches. That's not always comfortable for institutional representatives (like chancellors). But St Raphael, who we celebrated last Sunday together with all the North American saints, would have been at home in the blog culture of today.
St Raphael was a fiery and outspoken pastor who risked ecclesiastical censure to defend his people (see his life here). He protested vigorously against abuses by the Jerusalem "Brotherhood of the Holy Sepulcher" who at that time kept the local Palestinians in subjection. In a booklet published in 1893 while he was safely in Russia, Archimandrite Raphael issued this call to arms:
Now I say to you my fellow-citizens and fellow-believers: 'Why did you turn your face away from the church of your fathers and forefathers, leaving a group of foreign monks striving to destroy you and to be a yoke over your necks?…Are your hearts petrified and your spirits frightened? Don't you see how the wolves entered your churches, and your schools were on the verge of eradication?...

Arise, arise, O Orthodox indigenous people, arise from your sleep and hasten to lift the yoke of the Brotherhood from your shoulders and from the shoulders of your brothers. Do not be afraid or fearful, put on the armor of love of your religion and country, do not be branded with the stigma of dishonor and disgrace, for you are citizens in a free Ottoman Empire [!]. The one who does not embrace this Grace is undoubtedly a vicious and traitorous person and does not have devout ancestors.
Pretty strong stuff, even for today. Ecclesiastical authorities were furious and Archimandrite Raphael was only rescued from excommunication by the intervention of the Russian Orthodox Church, which later sent him to North America as a missionary. His booklet, An Historical Glance at the Brotherhood of the Holy Sepulchre, can be read at www.najim.net (translated and introduced by Fr Michael Najim, 1996).