Psalm 144: By David, against Goliath
1 Blessed be the Lord, my rock,
who trains my hands for war,
and my fingers for battle;
2 my rock and my fortress,
my stronghold and my deliverer,
my shield and He in whom I take refuge,
Who subdues the peoples under him.
3 O Lord, what is man that Thou dost regard him,
or the son of man that Thou dost think of him?
4 Man is like a breath,
his days are like a passing shadow.
5 Bow Thy heavens, O Lord, and come down!
Touch the mountains that they smoke!
6 Flash forth the lightning and scatter them,
send out Thy arrows and rout them!
7 Stretch forth Thy hand from on high,
rescue me and deliver me from the many waters,
from the hand of aliens,
8 whose mouths speak lies,
and whose right hand is a right hand of falsehood.
9 I will sing a new song to Thee, O God;
upon a ten-stringed harp I will play to Thee,
10 who givest victory to kings,
who rescuest David thy servant.
11 Rescue me from the cruel sword,
and deliver me from the hand of aliens,
whose mouths speak lies,
and whose right hand is a right hand of falsehood.
12 May our sons in their youth
be like plants full grown,
our daughters like corner pillars
cut for the structure of a palace;
13 may our garners be full,
providing all manner of store;
may our sheep bring forth thousands
and ten thousands in our fields;
14 may our cattle be heavy with young,
suffering no mischance or failure in bearing;
may there be no cry of distress in our streets!
15 Happy the people to whom such blessings fall!
Happy the people whose God is the Lord!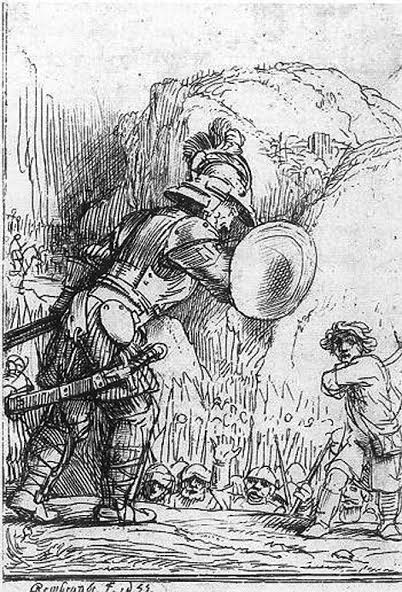 The ancient Greek translation of Psalm 144 includes the inscription, "By David, against (or concerning) Goliath." The first part of the psalm (verses 1-11) is a prayer about going to war against an arrogant and powerful enemy when one is weak and the odds of victory—in human terms—are laughable. The second part (verses 12-15) are prayers for blessings in time of peace, once the war is over: healthy and strong children, prosperity, fruitful farms and livestock and "no cries of distress in our streets."
The psalm is used in the "Office of the Blessing for Soldiers Going Off to War (or Battle)." War is a sad and necessary reality in our deeply fallen, violent world, but of course it has no place in the eternal kingdom of peace, love and joy Christ proclaims and promises. So it is instructive to see how the church prays for those who must engage in warfare during our sojourn in this world.
In the prayer below, note especially that the soldiers are called to "kill no one unrighteously" and are to protect refugees and the weak. In addition to David and Goliath (1 Sam 17) the prayer mentions Judah Maccabeus, who like David faced a dangerous and arrogant enemy (1 Maccabees.) In 167 BC he and his family started a revolt against the Seleucid ruler Antiochus IV Epiphanes who had issued decrees that forbade Jewish religious practices. Judah's strategy was to avoid any engagement with the powerful regular army, and to resort to guerilla warfare to win a number of victories.
O Holy Master, Almighty Father and Pre-Eternal God, Who alone made and directs all things; Who rises up quickly against the evil of the impious ones; Who, by Providence, teach Thy people preservation of Justice and the obliteration of the sword on earth; Who condescend to raise up military columns to help the people: O God, Who commanded the Forerunner John to say to the soldiers coming to him in the desert, 'Do not intimidate anyone… and be content with your wages':

We entreat Thee with compunction, that as Thou gavest Thy child David the power to defeat Goliath, and as Thou didst condescend, through Judas Maccabeus, to seize victory from the arrogant pagans who would not call on Thy Name; so too, grant protection in righteousness and truth to these Thy servants against the enemies rising against them, and by Thy heavenly loving-kindness, strength and might for the preservation of faith and truth.

Condescend, out of Thy mercy, O Master, to grant them the fear of Thee, together with humility, obedience and good endurance; that they kill no one unrighteously, but rather preserve all righteousness and truth; that they may fear Thee and honor Justice; that they run in friendship to those who are scattered, extending thy love to those near them, serving the elderly with justice; and that their ranks fulfill all things righteously;

For thou art our God, and to Thee do we ascribe glory; to the Father, and to the Son, and to the Holy Spirit, now and ever, and unto ages of ages. Amen.
* * *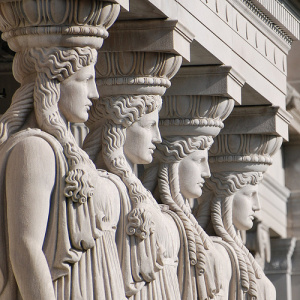 Verse 12, "Our daughters like corner pillars cut for the structure of a palace." This is not the contemporary model of waif-like feminine beauty. It probably refers to the caryatids of classical architecture, combining beauty and strength as they uphold the sides and corners of a building.
Update
Father Eric Tosi left this morning to participate in a conference on evangelism in Albania, hosted by Archbishop Anastasios, as part of the Lausanne-Orthodox Initiative that brings together Evangelical and Orthodox (http://www.loimission.net). Father Eric will give a paper on Koinonic Evangelism: The Community as the Evangelist. As he says, our tradition is not to "throw the Gospel into the face of the world," but rather to "seek first to understand what every human being longs for, and then seeing how, through the Word and the Sacrament, the Church can respond to those needs or heal any infirmities."
This afternoon I leave for Endicott, NY to attend the funeral for Father John Bohush, while His Beatitude goes to Baltimore and his Archdiocese of Washington for the funeral of Leda Dzwonczyk, longtime Secretary of the Board of Saint Tikhon's Seminary and a former member of the Metropolitan Council. May our Lord give Father John and Leda rest in His Kingdom, may their memories be eternal, and may He comfort their loved ones in these difficult days of mourning.