"All spoke well of him" and "All…were filled with wrath"
When Jesus first spoke in his hometown synagogue at Nazareth the congregation was amazed at his wisdom, "and all spoke well of him." But as they started to ruminate it didn't take long for their admiration to turn to suspicion. "Just where did he get this knowledge? He's just the carpenter's son. He doesn't have any proper education. We know him and his family, and his kind just aren't supposed to do this, teaching like a rabbi. He's getting ideas above his station. Who does he think he is?" Their suspicion turns to anger as Jesus refuses to be "humble" and fall in with their low expectations. Instead he marvels at their unbelief and how little can be done with them, and says so. He pointedly reminds them that God in ancient times often couldn't do much with the people of Israel either. Time and again it was the non-Jewish outsiders who were blessed. The widow of Zarephath. Naaman the Syrian. In Matthew Jesus is even more pointed, "Many shall come from the east and west, and shall sit down with Abraham, and Isaac, and Jacob, in the kingdom of heaven. But the children of the kingdom shall be cast out into outer darkness: there shall be weeping and gnashing of teeth" (Matt 8:11-12). That's too much. Jesus is stabbing at the heart of their identity as the chosen—exclusively chosen—people of God. The home crowd that was amazed just a little while before is incensed, and "when they heard these things, were filled with wrath." Wrath turns to murderous violence "and they rose up and thrust Him out of the city; and they led Him to the brow of the hill on which their city was built, that they might throw Him down over the cliff." Jesus escaped on that occasion, but forever wrecked the popular myth that he was meek and mild.
OTSA: Orthodoxy and Politics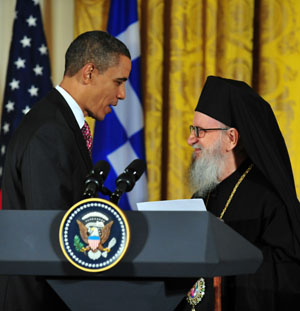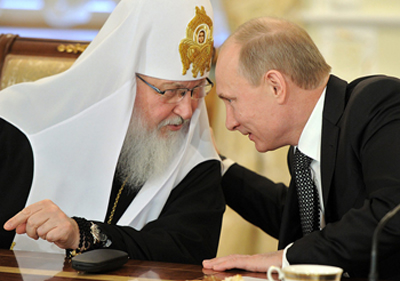 This morning I'm at St Vladimir's Seminary for the annual conference of the Orthodox Theological Society of America (OTSA). The topic this year is "Orthodoxy and the Political," with Orthodox scholars from around North America presenting papers. I've been asked to speak on "The OCA and the Political Today." Tonight at 7:30 pm Father John Behr will give a free public lecture, the yearly Georges Florovsky Lecture, "Reading the Fathers Today." For the full program see the OTSA's website.
OTSA is under the umbrella of the Assembly of Canonical Orthodox Bishops of North America and its purpose is to promote Orthodox theology, cultivate fellowship and cooperation among Orthodox Christians and coordinate the work of Orthodox theologians in the Americas.
Membership in the Society is open to Orthodox Christians in North America who teach at an institution of higher learning or are engaged in serious theological work or research. Candidates typically have at least a Master's degree in theology (or its equivalent) or a Master's degree in Arts, as well as significant additional graduate studies in theology or related disciplines.
The current president of the Society is Father Radu Bordeianu, Associate Professor of Theology at Duquesne University. He received his PhD from Marquette University where he studied with Professor Alexander Golitzin, a noted patristics scholar who was consecrated last May as the Bishop of Toledo and the OCA's Bulgarian Diocese.
After that brief theological interlude it will back to the Chancery for a conference call in the afternoon with the Sexual Misconduct Policy Advisory Committee.