This has been a grueling week of meetings with the Metropolitan Council (which ended yesterday), and this morning I'm at St Vladimir's Seminary to do a presentation with Dr Albert Rossi to seminarians on healthy boundaries, spiritual abuse and sexual misconduct. So again this will be a short entry for the Chancellor's Diary.
The MC meeting focused attention on a number of concerns in which the chancellor plays a major role, and there was vigorous debate. How should we be (better) handling crises that affect the church, such as allegations of clergy misconduct? How should information be communicated and decisions made within the various bodies of the church and to the public? How do the Chancery, the Holy Synod, the Metropolitan Council, and their advisory groups relate? There were intense discussions too around finances and the 2013 budget and the various contingencies including administrative and legal costs. There was an increase in funding for the planting grants for missions.
Alexei D. Krindatch, Research Coordinator
 for the Assembly of Canonical Orthodox Bishops of North and Central America, gave an excellent presentation on the results of a survey of parish life that compared Orthodox, Roman Catholic, Mainline Protestant and Evangelical experience. The survey then compared OCA, Antiochian Archdiocese and Greek Archdiocese results. He emphasized that for all denominations there is a very strong correlation between the excellence in worship and church growth. Parishes where the majority of people experience worship as reverent, joyful, inspiring and thought-provoking also tend to be parishes that are growing. His PowerPoint presentation to the MC can be viewed in the Metropolitan Council press release.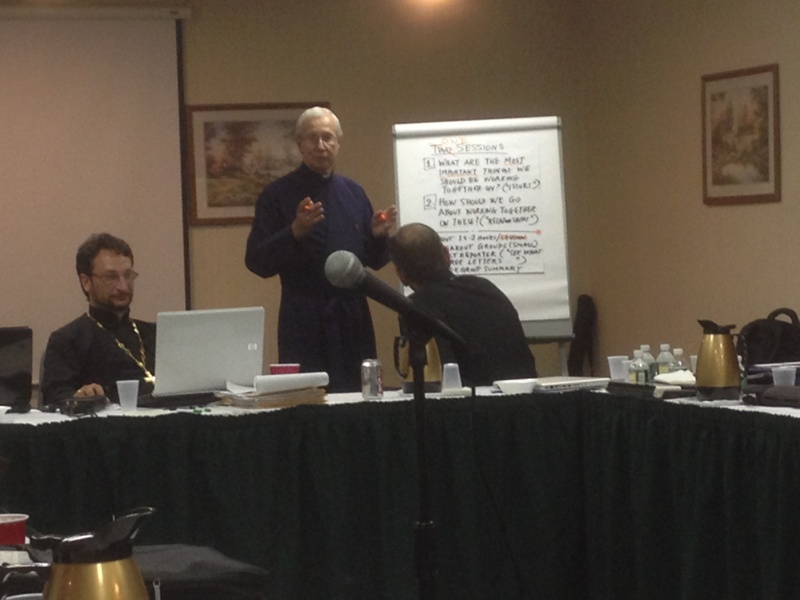 The other key period of reflection during the week was the discussion on current OCA challenges, led by Protodeacon Peter Danilchick. After breakout sessions in small groups, and then summaries from each on the issues raised, everyone put red dots on their priorities. The results were very clear: mission and outreach is by far the top priority among MC members. Here are the four leading priorities, by my quick calculation of total "red dots."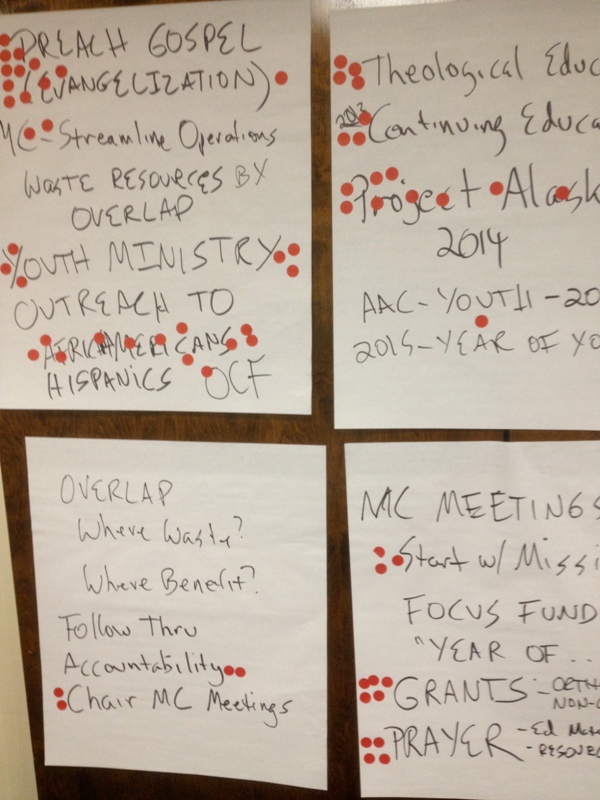 Mission, outreach to immigrants, youth, "cradle", youth, unchurched, Hispanics, African-Americans, college students.
Parish revitalization
Communication, clarification of responsibilities, handling of crises
Theological education, continuing education, clergy leadership training
Next week I expect to return to regular postings to the Chancellor's Diary, starting Tuesday from Denver where I'll be participating in the Assembly of the Diocese of the West.