Good News for All
Galatians is St Paul's most biting and passionate letter. More than any other it shows what he most valued and was willing to fight for. The situation in Galatia was this. Paul had brought the Good News to Gentiles (non-Jews) in this province in Asia Minor. The core of this gospel was that God had opened to all human beings the universal possibility of forgiveness of sins and shared life with God and with each other. God had opened up the doors to everyone not just his chosen people Israel. This new way was based on faith in Christ and living according to His teaching. This simple message met resistance right from the start from Jewish Christians in Palestine who insisted that it was far too simple. And they sent messengers in the footsteps of Paul in Galatia and elsewhere to bring what they said was the true gospel of keeping the Jewish Law as essential to being a follower of the Jewish Messiah. The new converts lapped this up. They wanted the tradition in all its fullness that God had revealed over time to the Jewish people. And they wanted something apparently more demanding and intricate and special, that marked them as God's insiders.
Wherever he went Paul was willing to grant plenty of leeway in local practices and even theological emphases, but what was happening in Galatia was cutting the heart out of the gospel. Paul minces no words: "I am astonished that you are so quickly deserting him who called you in the grace of Christ and turning to a different gospel" (Gal 1:6). "O foolish Galatians, who has bewitched you?" (Gal 3:1). Paul is incensed at those who are perverting the universal message. Whoever is doing this, "let him be accursed (anathema) (1:8). And just to be sure they get the message, he says in the very next verse, " As we have said before, so now I say again, If anyone is preaching to you a gospel contrary to that which you received, let him be anathema (1:9)."
This is not a word Paul uses lightly. But when the heart of Christ's universal message of the love and forgiveness and shared life in God is turned to stone, then it's the right word to use.
Good News on the OCA Website
There's a lot of good news on the OCA website. Our seminaries are getting started, with so many students and their families making sacrifices to study theology and serve the church in ways as yet unknown to most of them. Lectures being given by faculty members of international standing. A monastery celebrating an anniversary of decades-long steadiness in prayer and witness. Bishops and faithful of many churches worshipping together at Fort Ross. The Department of Christian education helping teachers in our parishes. An inspiring message from Patriarch Bartholomeos on the environment.
And then there's the announcement about Bishop Matthias. Yes, that's good news too. Maybe it came out a little late, though his own letter was already on the Diocese of the Midwest website. But as Archbishop Nathaniel said in an email this past week as this was deliberated, the Church has her own pace for considering everything and will not be pushed to conduct a trial over the internet.
It's good news because many people are involved in making decisions on how to face public crises. Sometimes I admit that this is cumbersome and unwieldy, but I prefer it to the other extreme of heavy-handed autocracy. It's good news because we can say that we are taking complaints seriously. There is still an ongoing debate in society and in our church as to how to do this in a way that is fair to everyone, especially the complainant and respondent. But the fact that we are addressing this at all is good news too.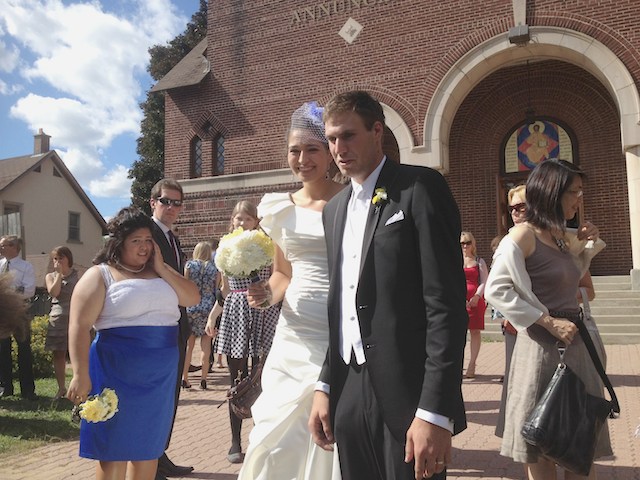 Every living community will have its share of messes. I was at a wedding this past weekend at Ottawa's Annunciation Cathedral and in the midst of the OCA's messes it was good to be reminded of Christ's presence at the marriage in Cana. As we pray for His presence in a marriage, so we pray for His presence with us especially when there's a mess. "As You were present there, so now be present here…"