Ridicule
And they ridiculed Him.
(Mark 5:40)
Jesus repeatedly faced ridicule, mockery and insults. In today's gospel about Jairus' daughter, it was obvious to everyone around her that the little girl was dead, not "sleeping," as Jesus said. "And they ridiculed him." Jesus takes this in stride and doesn't loudly shout back at them. He doesn't dramatically call out for a miracle and wave his hands over her emotionally. Nor does he say, "Oh, this was just symbolic. I meant it spiritually." Instead he quietly acts to demonstrate that there is more here than they imagined. He's not interested in being a circus act, so he sends everyone out except the girl's parents and his disciples and gently calls to her, "Little girl, I say to you arise."
Christians are always having quiet little miracles that confirm their faith, even when others might ridicule. The other day I was speaking with a woman who had unexpectedly received a check in the mail. She had been doing some volunteer work very faithfully, often using her own limited funds in the process, and others had quietly noticed. So she received a small honorarium as a gift. She was overwhelmed with gratitude. On Saint Phanourios day (August 27) she had made the "Phanouropita" or Phanourios bread that is traditional in many Greek families. She is not a complaining or pushy person, but had gently mentioned some financial need that was on her heart. And then later that day the check came. As one of my old friends used to say with a twinkle in his eye, "It almost makes you believe."
I heard Father Thomas Hopko once say that Christians today in North America "will suffer not from the spear but from the sneer." I'm sure he's right. But where God is concerned little miracles happen all the time to confirm our faith. And maybe the ridicule keeps us from using God's works to boost our own egos.
Andrew Boyd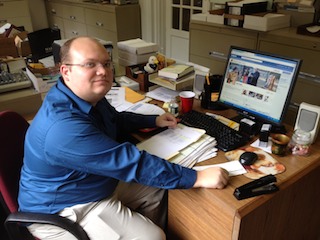 This past week Andrew Boyd began work as the OCA's Executive Assistant. He will be multi-tasking on a daily basis as he works with accounts receivable and gives administrative support to Archbishop Nathaniel (as locum tenens), Bishop Michael (as Administrator) and all the officers, while also keeping up the mission of the Youth Department which he heads. Yesterday he was continuing to set up his office (next door to mine) and creating a mini studio-space to conduct youth-related interviews for Ancient Faith Radio. He also edits the Youth Department's "Wonder Blog."
When the new Metropolitan is elected Andrew will also be ready to work with him as his secretary. As Bishop Michael said when Andrew was appointed, we're making sure that the OCA administration is running smoothly now to be ready for the new metropolitan.
We are blessed to have Andrew working for the OCA. He has a BS in business administration from the University of Connecticut and just graduated from Saint Vladimir's Seminary with a Master of Divinity (cum laude). While in seminary he also worked with Treasurer Melanie Ringa as Assistant Bookkeeper.
We wish him all the best and already feel his work and enthusiasm taking effect.