Wrath and Reason
God, as C.S. Lewis said of Aslan, "is not a tame lion." We tend to want Him to be warm, fuzzy and forgiving and we get uncomfortable with the unpredictable, wrathful part of His character. But God's ways are not our ways. Romans 1:18-27 is one of those passages that is disturbing because it reminds us just how little we know of God as He really is. How do we understand this wrath, coming from the God whose essence is love? God cannot abide wrong, he literally can't live with it, because His nature is utter goodness. Therefore, if the ultimate aim of human life is to share in divine life (theosis) then we must be conformed to His nature, because everything that is incompatible will be burned away, "for our God is a consuming fire" (Hebrews 12:29).
Is this reasonable? Even what we think is reasonable or unreasonable must be reshaped by the divine fire of the Holy Spirit. This passage (especially Rom 1:21) speaks about being led astray by our own thoughts. Thought is a gift, but it is marked by the fallen world too. One of the prayers before communion asks God to "enter and enlighten my darkened reasoning." A prayer after communion asks for "humility in my thoughts and a release from the slavery of my own reasonings."
Jesus often attacked the narrow legal reasoning and piety of the scribes and Pharisees, but he was equally insistent that we are all called to a total rethinking of how we live and speak with each other, "For I tell you, unless your righteousness exceeds that of the scribes and Pharisees, you will never enter the kingdom of heaven" (Matt 5:20).
Winnipeg, Manitoba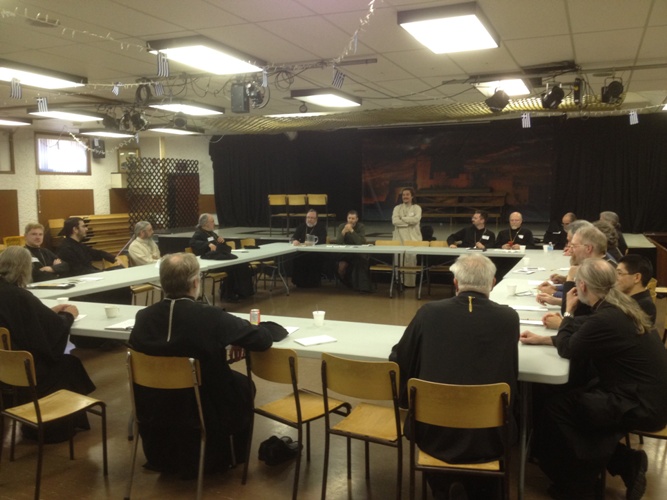 It's good to be back in Canada with Bishop Irénée and the clergy of the Archdiocese (and praying for Queen Elizabeth, especially during her 60th jubilee). I'll be here until Thursday to be with them for services and meals, speak with the brethren informally and listen to talks and discussions (liturgical uniformity, confession, administrative issues, updates on parish life and clergy concerns). We're staying at the dorms of Canadian Mennonite University and having our services and sessions across the street at St Demetrius Greek Orthodox Church.
I came in from the airport as the discussion on liturgical uniformity was going on. Bishop Irénée would like to see parishes move toward this, especially in how hierarchical liturgies are served as he visits from parish to parish across Canada. But he left most of the conversation to the clergy, among whom there was a good open debate on how this is to be done, the role of liturgy, what it means for mission and pastoral responsiveness. As one priest said, "The goal is a transformed people, not a liturgical menu that no one comes to." Another countered that liturgy is not just an evangelistic tool. "You as a priest are standing and interceding before the throne of God, it's what you do uniquely in the Body of Christ." Others admitted that liturgy isn't enough. "My parish has been there for 57 years but no one in the neighborhood knows who we are." In short, the discussions in Canada among clergy mirror the sorts of discussions I hear across North America, as clergy and laity ask real questions about the direction of church life and mission.