Metropolitan Tikhon celebrates festal Liturgy at Saint Tikhon's Monastery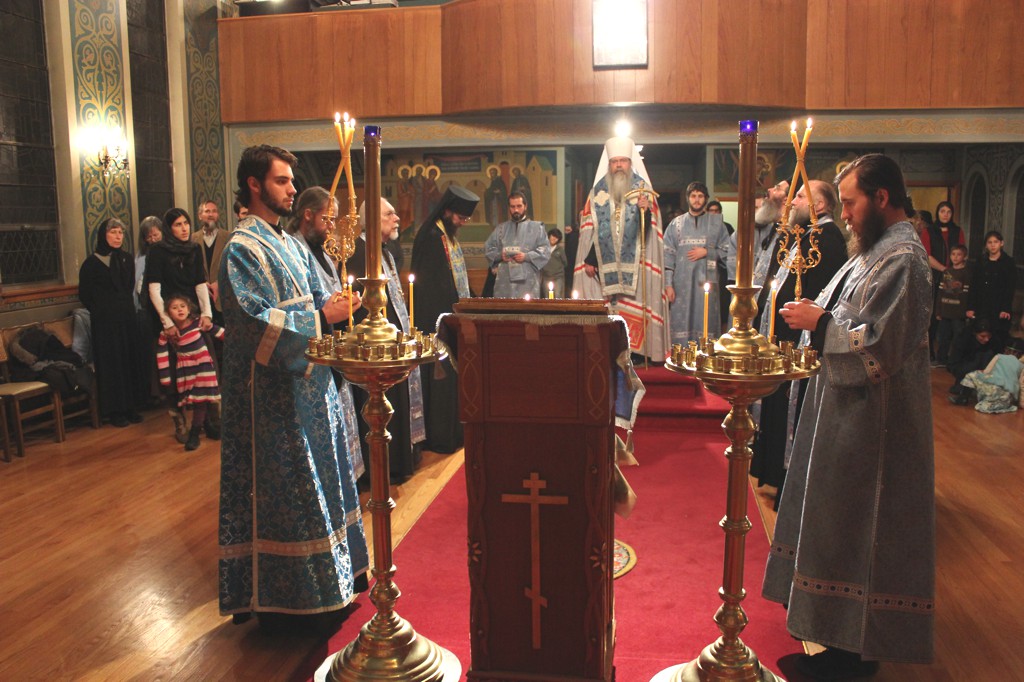 For the first time since his election as Primate of the Orthodox Church in America on November 13, 2012, His Beatitude, Metropolitan Tikhon celebrated the Divine Liturgy at the Monastery Church of Saint Tikhon of Zadonsk here on the Great Feast of the Entrance of the Mother of God into the Temple on Wednesday, November 21.

Metropolitan Tikhon's visit was especially appreciated by the monastic brotherhood and the faculty, students and staff of Saint Tikhon's Seminary inasmuch as, for many years, the monastery was his home. In 1990, he entered Saint Tikhon's Monastery as a novice. In 1995, he was tonsured to the Lesser Schema and ordained to the diaconate and priesthood in the monastery church, wherein he also was consecrated to the episcopacy on February 14, 2004. A 1993 graduate of Saint Tikhon's Seminary, he later served as the school's rector and instructor/lecturer in Old Testament.

At the conclusion of the Divine Liturgy, Metropolitan Tikhon greeted the monastic brotherhood and thanked them for their love and prayers while reflecting on the spiritual formation he received at Saint Tikhon's. He also served a Panikhida for the repose of the soul of the newly departed Laurie Paffhausen, sister of His Eminence, Metropolitan Jonah, whose funeral was being celebrated concurrently at Saint Nicholas Cathedral, Washington, DC, and the newly departed Matushka June Woronovich, who fell asleep in the Lord earlier that morning.

Concelebrating with Metropolitan Tikhon were Abbot Sergius and the monastic and seminary clergy.

A photo gallery of the celebration may be found on the OCA web site and OCA Facebook page.